Tours
Short & Winter tours
ATV 4wheel bike Tour (All season possible)
From: $300 : 4 days
Tour description
Terelj National Park- Khan Khentii Mount/range
This place is located in 100 kms from UB in beautiful geographic and natural scene, including fast flow rivers. There is steppe in south part of the place and Rocky Mountain in middle and forest in north parts. You will reach at the National Park from UB by a car through asphalt road then continue the trip to wilderness, where tourists uncommonly visit.
Besides off-road trip you can visit a nomadic family, see their peculiar lifestyle and culture in this region. There are many beautiful places in wilderness, where just available to reach by horse, or motorcycle or ATV. Jeep transportation is not possible. You can enjoy there for 1-7 days.
Let's ride an adventure with the ADVENTURE RIDER team
This price INCLUDES:
Private transport with driver during the trip including petrol cost and road tolls, , Accommodations in Ger tourist camps in countryside, Everyday 3 times meals and hot drinks such as cups of coffee and tea, Entrance fees to protected areas and national parks, Daily supply of mineral water - 0.5L bottle of water per day
This price DOES NOT INCLUDE:
English speaking tour guide service,
Single supplements for ger tourist camps = 20USD per night and etc
Challenging ride 4wheels in a unique far-flung destination
Diverse and unspoilt landscapes
Terelj National Park, where you'll encounter wild animals, sheep, deers, birds and well as friendly nomads
Visit to the Chingis Khan Statue and Gunj Temple
Beautiful Tuul River
Famed Melkhii Kad (Turtle Rock)
Capital city of Ulaanbaatar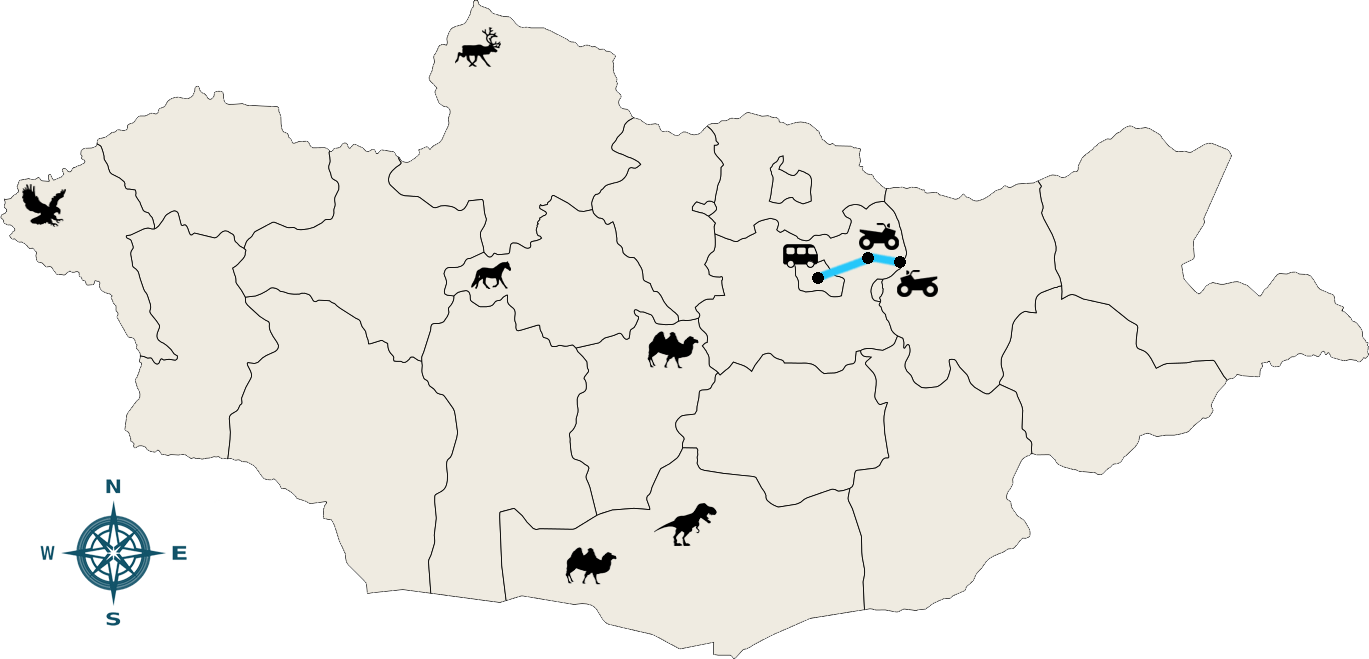 Day 1
Drive to Terelj Nat/Park and after 1 hour come to turtle Rock and start ATV riding from there. In the evening, visit Buddhist temple, located on top of Mountain. Camp in a tent at the bank of Tuul River and relax. Picnic dinner.
Day 2
Continue the riding and visit a nomadic family. Afternoon visit ancient historical Gunj Temple, secretly located in forest and have picnic lunch. Road around this place is very rough in marsh. Stay at a tourist ger camp nearby. Free time in the evening.
Day 3
Whole day rough off-road driving through place of Khavirgiin Davaa. Camp in a tent near Bosgo bridge.
Day 4
After breakfast half day driving to Chingis Khan Statue, then back to UB
Price:
Solo Traveller: USD1290
Per Person for group of 2 people: USD1190
Per Person for group of 3-4 people: USD1090
Per Person for group of 5-9 people: USD990
Above mentioned price is average amount to give you an idea. The exact amount is varied for everyone depending on number of travelers and service type including how many stars hotels you want to stay in, double or single occupancy you would prefer, what kind of additional service /such as visa support/ is required and so on...
Discount conditions:
If group is bigger than 16 people: 16 +1pax free of charge
For Family trip, children 0-9 years old are free of charge