Lord of the Taiga
From: $70 : 13 days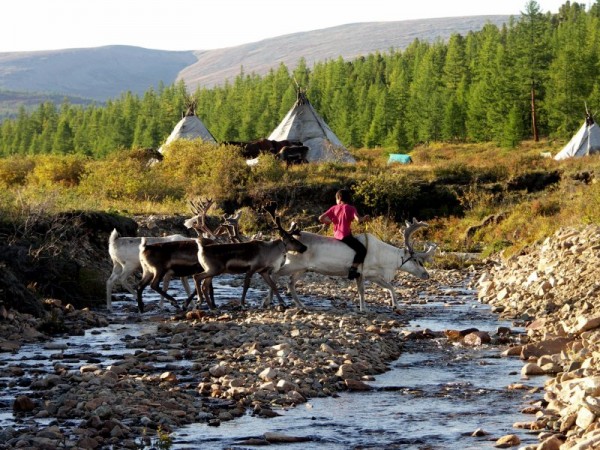 Tour description
On the furthest north of the country, there are famous travel destinations from Khuvsgul province. Lake Khuvsgul is Mongolia's biggest pristine fresh water lake and it is the sister lake to Baikal across the border in Siberia.
Lake Khuvsgul is surrounded by the sharp peaks of the KhoridolSaridag mountain range on the west side and the thick forests of the Soyon mountains on the east side. The lake is overwhelmingly beautiful and water is so pure that locals drink it directly from the lake.
On the opposite side of KhoridolSaridag mountains, is the 'Darkhad valley'. Travelling in the Darkhad valley to the Tsaatsan (reindeer herders) community on the north end of the valley will be an unforgettable experience. As to the nomadic part, you'll see Darkhad's famous white horses and yaks and the Tsaatan's reindeer herds. Be sure to ride reindeer while visiting Tsaatsans.
Because the area is full of high mountains, forests, rivers and lakes, it is an adventure travelers' heaven. The most famous season for locals is late August, as the valley's forests produce all kinds of berries at this time. If you travel there during 'berry season', do not miss the local fresh wild berries.
Let's ride an adventure with the ADVENTURE RIDER team.
Breakfast, Lunch, Dinner and drinking water on each day
Horse or camel riding (as applicable)
All entrance fees to parks, monasteries etc
Qualified driver and tour guide
Sleeping bags as required
Breakfast, Lunch, Dinner and drinking water on each day
International airfare or train tickets: We offer cheap international airfares and tickets for our customers request.
Personal expenses: Such as laundry, beverages, alcoholic drinks, telephone calls, optional activities which are not included in the tour itinerary
Travel insurance: Our clients are recommended to get travel insurance coverage from their local insurance companies before traveling
Amarbayasgalant monastery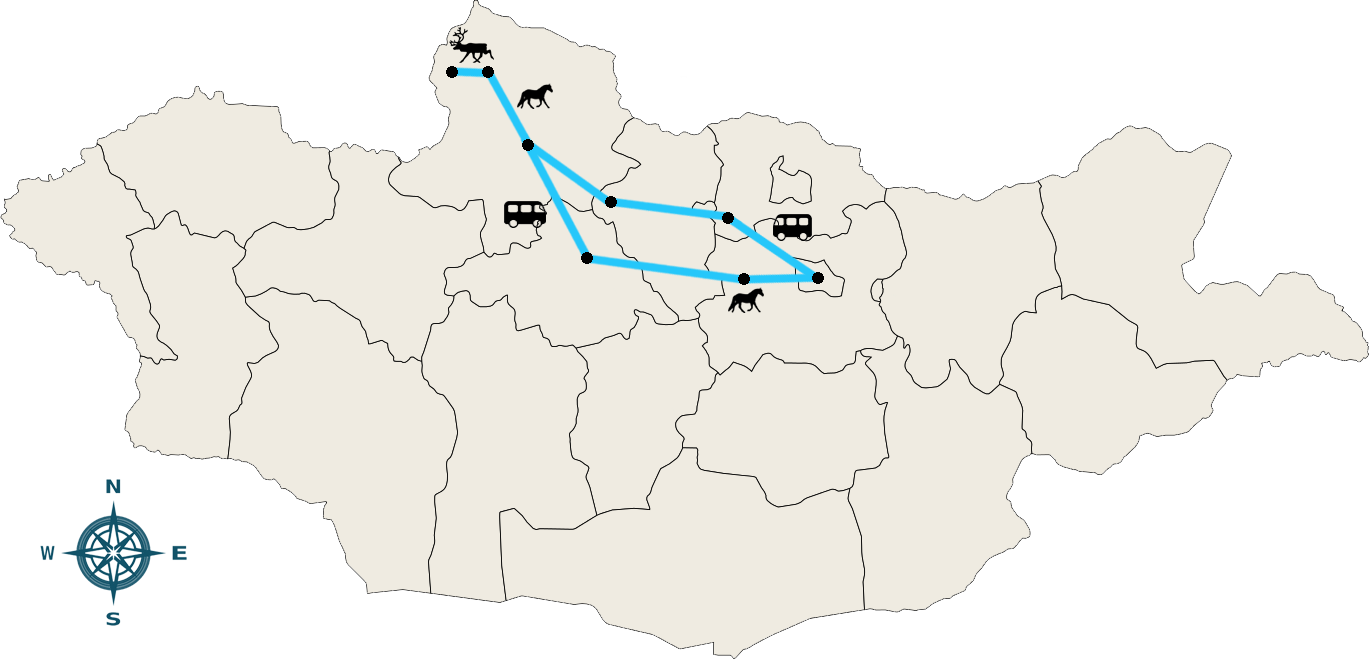 Day 1
After breakfast, we continue driving to Amarbayasgalant monastery. Amarbayasgalant is one of the four great monasteries of Mongolia and the most important northern monastery. It is one the largest monasteries, too, and it also considered architecturally the most beautiful. Unfortunately, some buildings were damaged during the religious purges of the 1930s and 10 of the 37 temples were destroyed. Restoration work was completed recently with the help of UNESCO. B+L+D
Day 2
Drive to Uran Togoo mountain which is extinct volcano around 600m wide and 50m deep, and at the bottom of it is a small lake 20m in diameter. In the centre of the lake on some high ground are some green trees. B+L+D
Day 3
Drive to Murun capital of Khuvsgul province B+L+D
Day 4
Drive to Ulaan- Uul small village which is lives a Darkhad ethnic people.
Overnight in hostel or tent in the beautiful wild nature (depending on weather B+L+D)
Day 5
Drive to Tsagaan Nuur village. Tsagaan Nuur known as White lake village is located near the lake in a district of the same name. It is surrounded by the extensive marshland, mountain and forested hills, the natural home of the Tsaatan minority reindeer people. We will prepare our horse trip to deep of Taiga.
Overnight in hostel or tent in the beautiful wild nature (depending on weather) B+L+D
Day 6
After breakfast, start horse trip to real reindeer family deep of Taiga. Tsaatan (reindeer people) comprise 80 families of a small but growing population. They live in the high mountains of northern Khuvsgul province. Tsaatan construct birch-burk, teepee-style dwellings and hunt using horns made of larch wood to imitate animal calls. They catch fish by spearing them with long poles; reindeer milk ia part of their staple food from which they make cheese, butter and yoghurt. Occasionally, they eat reindeer meat but overall they prefer not to kill their deer.
Overnight in Teepee. B+L+D
Day 7
You spend time with Tsaatan families and ride a reindeer around of these areas. Learn their daily lifestyle, milking reindeer, herding a reindeers, etc while exploring, enjoying the relaxing beautiful wild Taiga.
Overnight in Teepee and Tent. B+L+D
Day 8
Horse trip back to Tsagaan Nuur village. Traditional Mongolian barbecue for dinner.
Overnight in hostel or tent. B+L+D
Day 9-10
Drive to Khuvsgul lake which is the deepest and pure lake in Mongolia. You have a opportunity to hiking near the lake and forest for taking photos of Khuvsgul lake area. . Also we will take a boat on the beautiful lake. B+L+D
Day 11
Drive to Jargalant village. If you want to stay cozy Camp
Overnight a tent in the beautiful nature. B+L+D
Day 12
Drive to Khustai national park. Located about 100 km west of UB this reseve is home to the Mongolian wild horse, named of Takhi (Prezewalski Horse). The steppe and forest-steppe environment is inhabited by maral, steppe gazelle, deer, boar, wildcat, wolf, marmot and lynx where is paradise for hikers. B+L+D
Day 13
Drive back to UB. If you would like to do some shopping souvenirs and cashmere in Ulaanbaatar, B+L+D