Beauty Central Mongolia Tour
From: $60-140 : 8 days
Tour description
8 day overland driving tour. The tour offers an exploration of what Mongolians call "Khangai" and central Mongolia, the land of forested mountains, clear lakes and streams, hot spa and waterfall. It is populated by nomadic herders whose way of life has changed little since many centuries. They tend large herds of yaks, horses, goats and sheep. Meet these hospitable people and learn of their culture and traditions. Visit Buddhist monasteries and the ancient capital of Genghis Khan, from where he launched his victorious cavalry. Hiking, horseback riding, are the main activities. Overnights are mainly in traditional felt covered tents locally known as Ger.
Breakfast, Lunch, Dinner and drinking water on each day
Horse or camel riding (as applicable)
All entrance fees to parks, monasteries etc
Qualified driver and tour guide
Accommodation
Sleeping bags as required
International airfare or train tickets: We offer cheap international airfares and tickets for our customers request.
Personal expenses: Such as laundry, beverages, alcoholic drinks, telephone calls, optional activities which are not included in the tour itinerary
Travel insurance: Our clients are recommended to get travel insurance coverage from their local insurance companies before traveling
Visit anciant capital city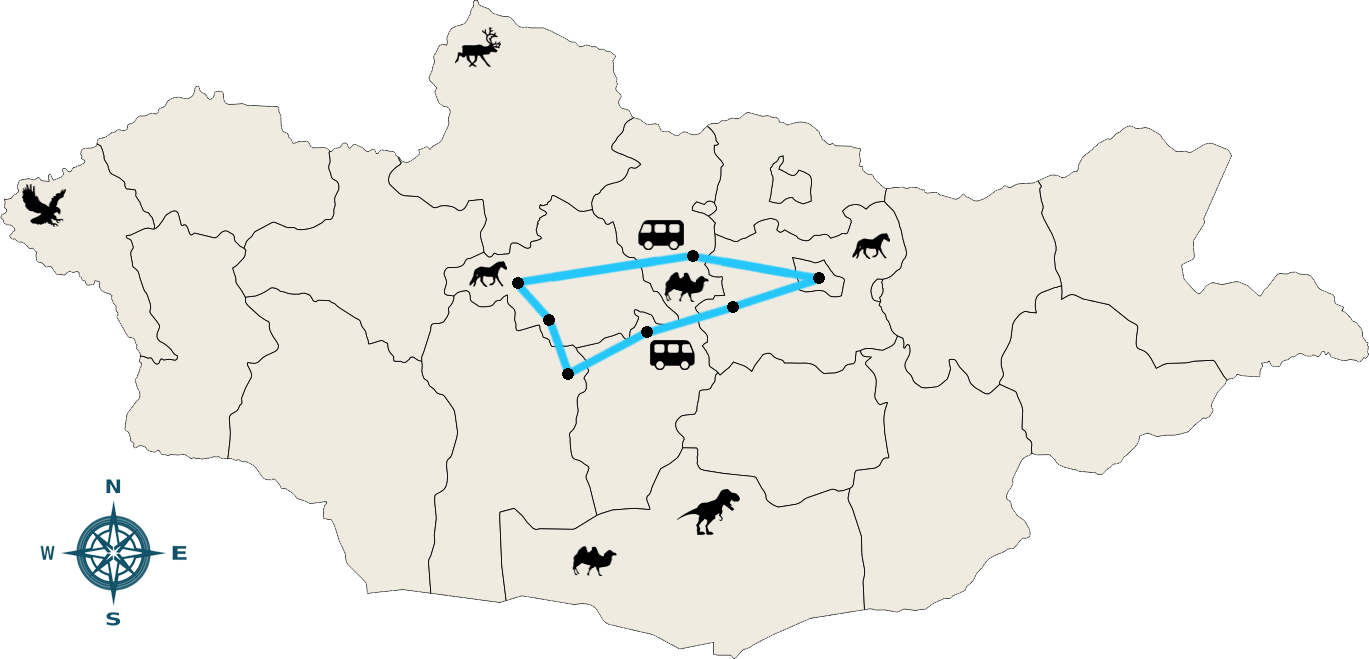 Day 1
After breakfast, we are going to drive to the Ugii lake. This is a wonderful area for fishing and birdwatching and generally chilling out to enjoy the freedom of the countryside. B+L+D
Day 2
Drive to Taikhar Chuluu which is massive granite rock (possibly a volcanic plug) towers above the surrounding flat country. Iti s also a sacred rock. B+L+D
Day 3-4
Drive to Khorgo dead volcano and Terkhiin tsagaan lake (spelled also white lake). It contains spectacular mountain scenery and rock formations formed by volcanic eruptions. We will ride a horse around 4 hour here to explored big volcano carter area. There are a good spot for bird watching and photographing. B+L+D
Day 5
Drive to Tsenkher hot springs. The waters are supposed to have curative properties for joints and other ailments. Outdoor pools are attended by staff who can or heat the water via a water-gate system; there are also indoor pools. Men and women bathe separately. It is an excellent place to relax. B+L+D
Day 6
Drive to Orkhon Waterfall, which was formed by volcanic eruptions about 20.000 years ago, the waterfall cascades from a height of 20 km. It is a scenic, tranquil spot and the surrounding nature is undisturbed, where is hiking and ride. B+L+D
Day 7
Drive to one of the natural spectacular Khugnu khan national park. You will see the little bit of the Gobi desert which called Elsen tasarkhai (means small sand dune and Mongol els).Mongol els surrounded by hills with willow trees, streams and bushes. Also visit nomad family and camel ride, hiking this area, take a memorable photos. B+L+D
Day 8
After breakfast, visit Uvgun temple in the Khugnu khan mountain.Then drive to Ulaanbaatar. If you would like to do some shopping souvenirs and cashmere in Ulaanbaatar. And enjoying an evening performance of national Folklore. B+L+D