Travel information
Client Comments
BarbaraKoz / Poland
Tour: Gobi Tour
Distance: 1750km
Tour lenght: 6 days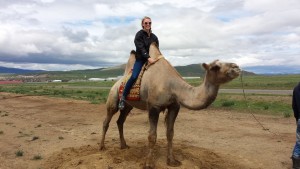 Beca Kenney / England
Tour: Day Trip to Chinggis Khaan Statue
Distance: 150
Tour lenght: 1 Day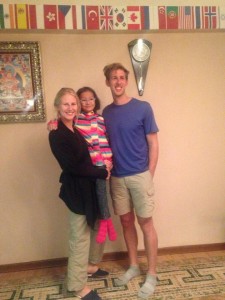 Steven Wallace & Kyhe Ross / Australian & Newzealand
Tour: Central Mongolia Tour
Distance: 1000km
Tour lenght: 5 days
BarbaraKoz
Polecam biuro Adventure Rider. Organizowalo nam wycieczkę 6 dniowa na Gobi (dla trzech osób). Wszystko przebiegło zgodnie z planem.Mielismy sympatyczna przewodniczke i świetnego kierowcę, co jest nie bez znaczenia na stepie. Noclegi były w urokliwych miejscach, w jurtach. Co prawda noclegi byly bez zaplecza sanitarnego, ale piękne okoliczności przyrody rekompensowaly te niedogodności. Kierowca dowiozl nas w najpiękniejsze miejsca na Gobi, trochę trzęsie w samochodzie ale było warto. Hostel Adventure Rider w Ulan Bator jest ok, standard schroniska, schludnie i czysto, gospodarze bardzo sympatyczni.Polecam!
Beca Kenney
Adventure rider organised a perfect tour for me last minute. They were very hospitable and spoke very good English. They accomodated for both my wishes and my budget, a very good price for a filled tour! They went out of their way to make sure I enjoyed my day. Very nice people. If you want a fantastic tour in Mongolia at very reasonable prices, this family run lovely little business is the place to look! A massive thank you for helping me explore the Country! :D
Steven Wallace & Kyhe Ross
We are very grateful to the "Adventure Rider" team for organising such a well-run tour at short notice. We arrived at the train station with nothing booked, and within 2 hand, were off on our Mongolian Adventure. Our expert driver and friendly guide accompanied usover the next 5 days as we learnt first-hand what living in the Mongolian countryside is like. From sleeping in nomadic Gers, to milking the goats, eatiing homemade dumplings in a shamans house, to trekking cross-coubtry on horses, we experienced so much. Our guide cooked beautifully for us, even for me as a vegetarian! We didn't have to plan or think of anything-it was all taken care of- and on a Backpackers Budget!
Thank-you again Team, We'll never forget Mongolia