Great Mongolia (Long tour by land)
From: $60 : 31 days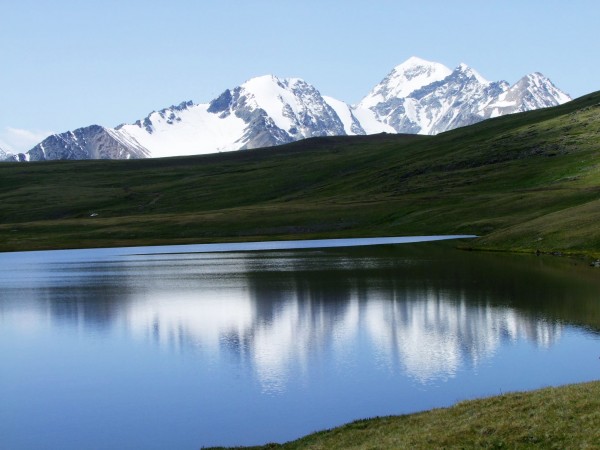 Tour description
Join us on this epic Great Mongolia long tour through this wonderful country of ancient history, unique Mongolian nomadic culture, and rare wildlife species, untouched beautiful landscape, Gobi Desert and hospitable Mongolian people whose lives are not changed in many ways since the days of mighty Genghis Khan and his empire. This fantastic Mongolia trip is specially designed to bring you all these unique features nowhere else to be experienced.
Surrounded by the Gobi Desert to the south, the Khangai mountain range to the east and the Great Lakes Depression to the west, Zavkhan province of central Mongolia is a unique and special landscape.
We'll continue our expedition in Ulgii, Mongolia's westernmost city and home to Mongolia's Kazakh population. We'll spend some time to learn a little about the Kazakhs of Mongolia famed forholding on to the century old tradition of hunting with Golden Eagles.
Our Great Mongolia long travel end of the 17th century magnificent Amarbayasgalant monastery, the outstanding Lake Huvsgul & the beautiful Horidol Saridag Mountains, Tsaatan people, picturesque Khorgo-Terkh National Park and ancient capital at Karakorum. The next half of the tour takes you to the Gobi Desert and its wonderful sites: Ongi monastery ruins, Bayanzag the Flaming Cliffs, the Khongor sand dunes and the glacial Yoliin Am. At the last leg of trip, we'll spend some leisure and fune time at amazing Gun-Galuut Nature Reserve - a home to endangered wildlife and many other sites on the way.
Landscape and cultural sightseeing blend easily in Mongolia - you will have the chance to visit families of nomads, remote Buddhist monasteries and traditional events, and to take part in horse-riding or guided walking if you wish - there are also endless opportunities for photography.
Let's ride an adventure with the ADVENTURE RIDER team.
Breakfast, Lunch, Dinner and drinking water on each day
Horse or camel riding (as applicable)
All entrance fees to parks, monasteries etc
Qualified driver and tour guide
Sleeping bags as required
International airfare or train tickets: We offer international airfares and tickets for our customers request.
Personal expenses: Such as laundry, beverages, alcoholic drinks, telephone calls, optional activities which are not included in the tour itinerary
Travel insurance: Our clients are recommended to get travel insurance coverage from their local insurance companies before traveling
Southern Mongolia (7 days) A chance for you to try riding the 2 humped Bactrian camel amongst the huge sand dunes of Southern Mongolia.
Central Mongolia (4 days) Visits to huge Buddhist Erdenezuu monastery, the symbolic ruins of the ancient capital Karakorum, and great extinct volcano area with White Lake.
Western Mongolia (12days) Altai Tavan Bogd National Park,
Northern Mongolia (6 days) Huvsgul Lake is the second biggest freshwater lake in Asia after Baikal
Ulaanbaatar (2 days) The capital of Mongolia is one of the safe city in the world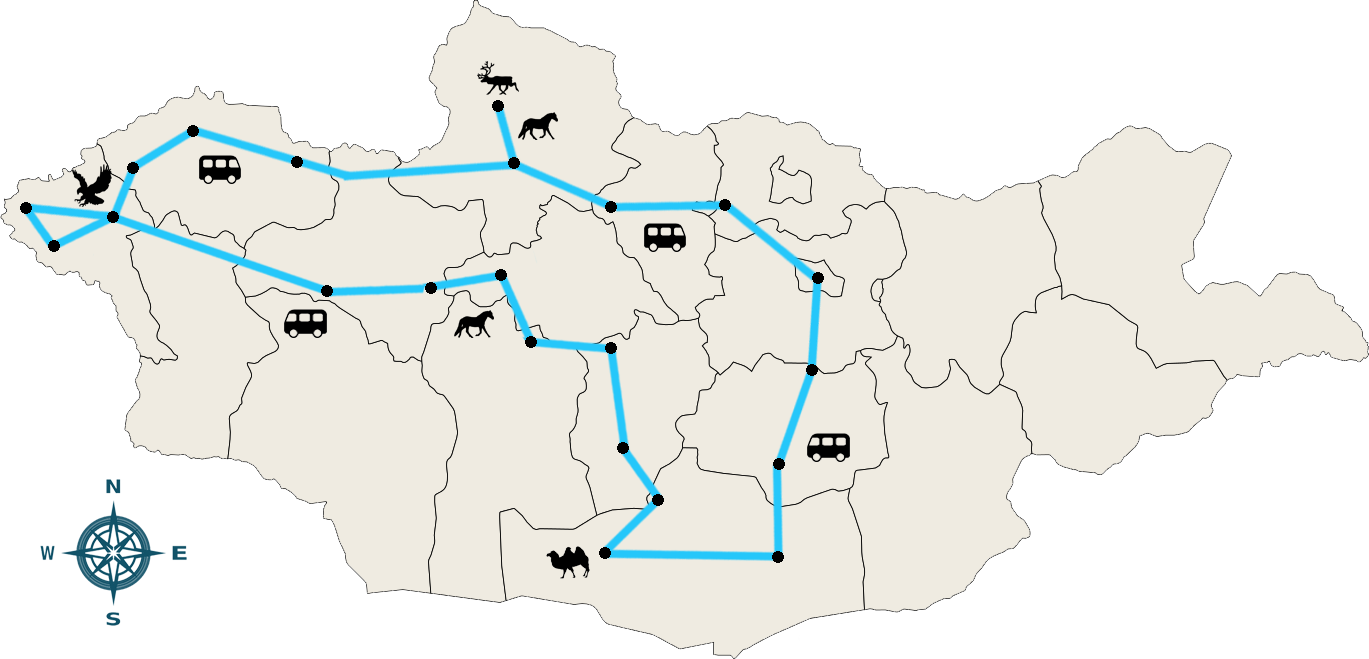 Day 1
Drive to Rock formation which is beautiful Gobi desert an interesting granite rock formation in the Middle Gobi. B+L+D
Day 2
Drive to Tsagaan suvarga (White stuppa). This is an eroded landscape that was once beneath the sea. Reach in marine fossils and clam shells, some of the chalk mounds are up to 30m in height. B+L+D
Day 3
Drive to Yoliin am (Yol ice valley ) which located in Govi Gurvan Salkhan or known as Three Beauty of Gobi. It's end of the Altai mountains ranges and chance to see wild animals such as wild sheep, ibex, condor, golden eagle and of course vultures.
(Mongolian traditional felt accommodation). B+L+D
Day 4-5
We continue our journey to the Khongor sand dune or known as Singing Dune that is one of the biggest sand dunes of Mongolian. It has an extraordinary length of approximate 100 kms and 12 kilometers wide. There is an oasis near a river Khongor at the northern edge of the sand dunes. Free day for leisure nearby the sand dune. Dune journey, camel riding and trekking is available. B+L+D
Day 6
Drive to Bayanzag or known as Flaming Cliffs. Bayanzag is very famous for Dinosaur remains complete dinosaur skeletons and eggs. American Palaeontologist Roy Chapman Andrews has been discovered this area in beginning of 20 century and getting famous all over the world. Visit to Dinosaur fossils found area. If you see carefully, you could find piece of bone or dinosaur egg. Afternoon short hiking Gobi tree-saxual forest. B+L+D
Day 7
Drive to Ongi monastery, which is located Ongi river formerly one of the largest monasteries in Mongolia, it was founded in 1660 and consisted of two temples complexes on the North and South of the Ongi Gol river. The older southern complex consisted of various administrative buildings as well as 11 temples. The northern complex, built in the 18th century, consisted of 17 temples - among them one of the largest temples in all of Mongolia. The grounds housed also 4 Buddhist universities. It was completely destroyed in 1939. Although there is little left, it is interesting to go there to explore the ruins. B+L+D
Day 8
Drive to Kharakhorum ancient city of Mongolian Great Empire which was formerly a great capital city built by Ogoodei Khan(Chinggis Khan's successor and third son) in 1235. Visit to oldest Buddhist monastery Erdenezuu and you will see modern style historical museum. B+L+D
Day 9
Drive to Orkhon Waterfall, which was formed by volcanic eruptions about 20.000 years ago, the waterfall cascades from a height of 20 km. It is a scenic, tranquil spot and the surrounding nature is undisturbed, where is hiking and ride. B+L+D
Day 10
Drive to Tsenkher hot springs via Tovkhon monastery. The waters are supposed to have curative properties for joints and other ailments. Outdoor pools are attended by staff who can or heat the water via a water-gate system; there are also indoor pools. Men and women bathe separately. It is an excellent place to relax. B+L+D
Day 11-12
Drive to Khorgo dead volcano and Terkhiin tsagaan lake (spelled also white lake). It contains spectacular mountain scenery and rock formations formed by volcanic eruptions. We will ride a horse around 4 hour here to explored big volcano carter area. There are a good spot for bird watching and photographing. B+L+D
Day 13
Drive to Telmen Lake (Mongolian: Тэлмэн нуур) is a saltwater lake in Zavkhan, Mongolia. Three islands are located in the lake, which is a gathering point for migratory birds.
Overnight in tent. B+L+D
Day 14
Drive to Bayan lake, which is called ''Ulaagchinii khar nuur'' by local residents. Bayan lake is a beautiful fresh water because its water percolates through the Bor khyartiin sand and it creates many springs that are the sources of a small rivers flowing into Khungui river. Bor Khyariin Sand dunes are south of the lake and the dunes, there is a special natural component wicker grove.According to local people, Bayan lake has many fish and otter can be found here. Apart from water birds, thr lake is the home of many species of animals and plants. B+L+D
Day 15
Drive to the Khyargas lake, 4th biggest lake in Mongolia, is located on the south of Khan Khuhiin Mountain Range. During the summer time, this lake is a very good place for swimming and sunbathing. A group of wonderful rocky cliffs with 20-25 m relative altitudes, called Khetsuu Khad, are on the south east shore some of them look like islands that give a wonderful view. Many birds gather in these cliffs.
Overnight in tent. B+L+D
Day 16
Drive to the Bayan-Ulgii town. This is westernmost aimag (translated province) of Mongolia is unlike Mongolia's other provinces, is a truly unique and unforgettable place. The population consists primarily of Turkic Kazakhs- the largest minority in Mongolia. Khazakhs have their own language and customs. Around 90% of the population are Muslims. Also, Mongolia's highest mountain, Mount Khuiten peak (4,374m), in the Tavan Bogd Mountains belongs to this area, located in the northwest where the borders of three countries, Mongolia, China and Russia meet. B+L+D
Day 17-18
Drive to Khurgan lake and Khoton nuur has one Iceland which is covered by woods. The system of Khoton Nuur and Khurgan Nuur lakes, connected by a wide channel, is the source of the Hovd River which drains the whole Mongolian Altai. Lake Khoton Nuur was formed by glacial blockages. Khurgan nuur is the lowest point of Altai Tavan Bogd National park. Some fishes are in lake Khoton and lake Khurgan nuur. We will visit nomad Khazakh family, learn their lifestyle, fishing and big hiking at the beautiful two lake area.
Overnight in tent shores gorgeous lake. B+L+D
Day 19-20
We will head to Altai Tavan Bogd National Park. This mountain is 200km long and 50-80km wide, has five high show peak. Tavan Bogd Mountain is glaciated and has permanent snow cover above 3100 m. There are 250 big and small glaciers which cover an area of 510 square km.
First stop. Before Altai Tavan Bogd, we will stay herder family because can't drive by the car. Our tour will continue by the horse tomorrow early morning.Overnight in tent nearly herder family. B+L+D
Second day. Horse trip will start to Potanin glacier. Potanin glacier is biggest glacier in Mongolia and it is considered one of the big glacier in central Asia. Overnight in tent near the at amazing Potanin glacier. B+L+D
Third day. We will back to herder family, finish a horse trip. Overnight in tent nearly herder family. B+L+D
Day 21
Drive to Sagsai village, Bayan-Ulgii province. In western Mongolia, deep within the Altai mountain range, an ancient tradition of hunting with Golden Eagles is still alive. The Kazakhs of Mongolia train their eagles to hunt for rabbits and foxes. It is a fantastic opportunity for photographers and adventurers alike to see these magnificent birds up close, as well as Kazakh culture.
Overnight in ger of the Eagle hunter family. B+L+D
Day 22
After breakfast, drive to Uureg lake. This lake is a saltwater lake containing unidentified minerals. It is surrounded by 3,000m-plus peaks such as the Tsagaan Shuvuut Uul (3,496m) and is a great place for swimming, fishing and hiking.
Overnight in tent. B+L+D
Day 23
Drive to Uvs lake, Central Asian largest mineral lake appears like an inland sea. It is 84 km long and 79 km wide. The shoreline length is 425 km. The lake is surrounded by Buureg Deliin Els sand in east and southeast parts, and its other areas are surrounded rocky steppes, but there are also thick reeds around the end of flowing rivers and lake shores. Uvs lake Strictly Protected Area was established in 1993s including the areas of Uvs lake, Turgen mountain, Tsagaan Shuvuut Mountain, end of Torkhilog-Tes River and Buureg Deliin Sand. Due to the extreme climate (recorded winter temperatures of -570C and summer temperatures of over 400C) this area has been chosen for climate change research by international scientists.
Overnight in tent. B+L+D
Day 24
Drive to Altan Els (Golden Sand). Also known as Buureg Deliin Els sand dune is the northernmost sand massif, not only in Mongolia, but the world and it is 180 km in length and 40-45 km wide. The park offers a place of natural beauty with plenty of wildlife.
Overnight in tent. B+L+D
Day 25
Drive to Tsetserleg sum (village), Khuvsgul province.
Overnight near the village in tent. B+L+D
Day 26
After breakfast drive to Murun city capital of Khuvsgul province. One of the longest driving day (around 8 to 9 hours) B+L+D
Day 27
After breakfast we will visit local museum and 2m deer stone near the by Murun city. Then drive to Khuvsgul, the deepest and pure lake in Mongolia. You have a opportunity to hiking near the lake and forest for taking picture and flora & fauna of Khuvsgul lake area.
Day 28
Today we visit reindeer family who are few ethnic group of Mongolia. You have a chance to ride a reindeer and take your memorable photos. Also we will take a boat on the beautiful lake. You will try to eat traditional barbecue (named as Khorkhog). Khorkhog (Mongolian: Xopxoг) is a barbecue dish in Mongolian cuisine. Khorkhog is made by cooking pieces of meat inside a container which also contains hot stones, water, and vegetables and is often also heated from the outside B+L+D
Day 29
Drive to Uran Togoo mountain which is extinct volcano around 600m wide and 50m deep, and at the bottom of it is a small lake 20m in diameter. In the centre of the lake on some high ground are some green trees. B+L+D
Day 30
After breakfast, we continue driving to Amarbayasgalant monastery. Amarbayasgalant is one of the four great monasteries of Mongolia and the most important northern monastery. It is one the largest monasteries, too, and it also considered architecturally the most beautiful. Unfortunately, some buildings were damaged during the religious purges of the 1930s and 10 of the 37 temples were destroyed. Restoration work was completed recently with the help of UNESCO. B+L+D
Day 31
Drive back to UB. We will show great performance of National Song and Dance Academic Ensemble and we have a time quick shopping souvenirs and cashmere in UB. B+L+D