Adventure Rider (Motocycle tour)
From: $140 : 10 days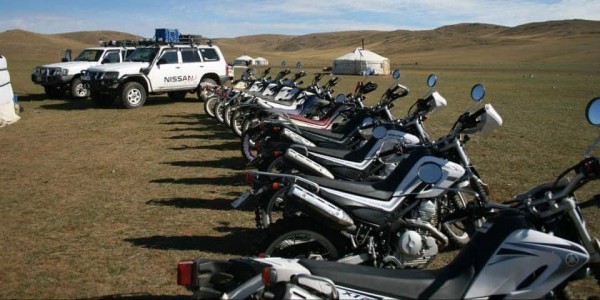 Tour description
We suggest you one of the most incredible ways to discover Mongolia. This is a motorbike tour. You can come anytime to ride a motorbike through beautiful natural scene in different zones
An escort vehicle will follow the same route to provide the best support and safety for the participants. It will carry luggage, camping gear, fuel, tools and spare parts, water, food and first aid kit. Riding in the support vehicle will be a mechanic, a cook. People who wish to accompany the motorcycle riders can follow in a 4WD car on the same route and share the same adventure.
We use off-road KLR650 and 650cc Japanese motorcycles
You will see awesome Gobi and huge steppe, forest and grassland, mountain ranges, volcanic area, temple and monastery, ancient capital city, hot spa and relaxing, wild horse and trekking. Rivers while you are riding. You will visit nomadic families and can spend night in the felt tent, named as ger in Mongolian.
So, we suggest you the main motorbike tour routes. Please consider that they are flexible to make any change in them, according to your wish and interest.
Let's ride an adventure with the ADVENTURE RIDER team. Just do not forget your motorcycle-driving license
Breakfast, Lunch, Dinner and drinking water on each day
Horse or camel riding (as applicable)
All entrance fees to parks, monasteries etc
Qualified driver and tour guide
Sleeping bags as required
Breakfast, Lunch, Dinner and drinking water on each day
Motocycle & fuel, support/luggage van and Mechanic
International airfare or train tickets: We offer cheap international airfares and tickets for our customers request.
Personal expenses: Such as laundry, beverages, alcoholic drinks, telephone calls, optional activities which are not included in the tour itinerary
Travel insurance: Our clients are recommended to get travel insurance coverage from their local insurance companies before traveling
Biking on the Mountains and huge steppe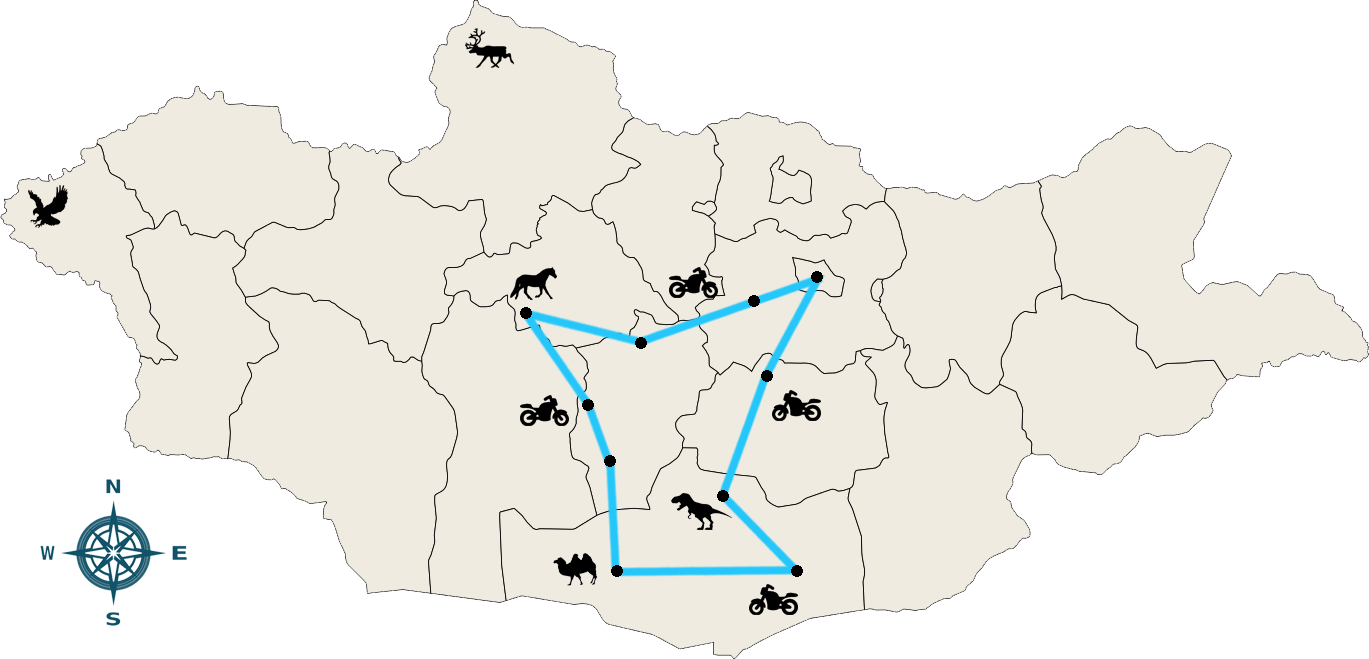 Day 1
After breakfast ride through steppe zone for the whole day and camp near Erdenedalai village.
Day 2
Ride to Bayanzag, Gobi small forest with rare trees and this place was rich of dinosaur bones and eggs. You can see beautiful sunset. Visit Flaming Cliffs and stay at a Ger camp near it.
Day 3
Ride to visit Yol Valley, located in Gobi Gurvan Saikhan National Park and see a local museum in the Park. Hiking to the Valley which is with ice even in summer. Stay at a Ger camp near the Valley and see clear blue sky and stars at night.
Day 4
Ride to visit Khongoriin Els, 180 km long sand dune and it is available to ride a camel. Hiking to the dune and relax. It is the most beautiful place in the Gobi.
Day 5
See wonderful moment of sun rising in Gobi steppe in the morning and leave the Gobi zone. Ride through sandy steppe for half day and then off-road ride through rocky Mountains. Camp near the Guchin-Us village.
Day 6
Move to Mountain zone to steppe zone and pass through Arvaikheer town of Ovorkhangai province. Riding through Mountains and come to Orkhon, the biggest waterfall and camp.
Day 7
Off road ride through Forest high Mountain and during the way visit a nomadic family. Visit Tsenkher hot spa, located in skirt of beautiful forest Mountain. It is available to have hot spa bath in small stone pool, in skirt of the Mountain.
Day 8
After breakfast continue the trip and ride to Kharkhorin, capital of ancient Mongolian Dynasty and visit Erdenezuu Monastery, one of biggest heritages of Buddhism.
Day 9
Ride on your motorbike to Hustai National Park. You will see wild Takhi the Asian wild horse. Enjoy small hiking and photographing the charming landscape and wildlife. Visit Takhi's small museum.