Great Gobi tour
From: $70 : 16 days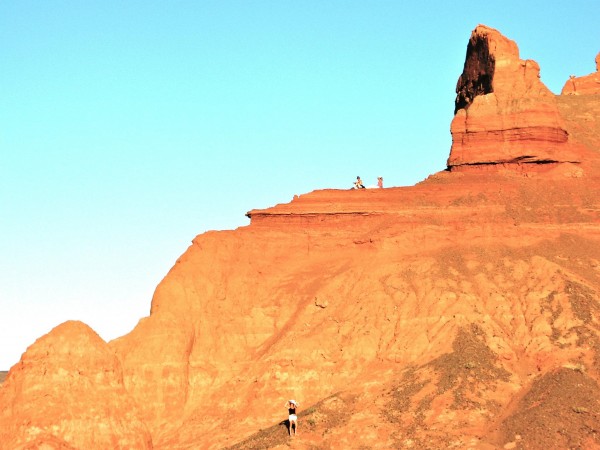 Tour description
Umnugobi, Dundgobi, Dornogobi, Gobisumber aimags are in Southern Mongolia. Gobi is a main destination for tourists to visit. The Gobi desert, one of the world's great deserts, covers much of the southern part of Mongolia. Unlike the Sahara there are few sand dunes in the Gobi; rather you'll find large barren expenses of gravel plains and rocky outcrops. Experts considered that Mongolian gobi was a bottom of sea in ancient time. The climate here is extreme. Temperatures reach +40° C. in summer, and -40 in winter.
Precipitation averages less than 100 mm per year, while some areas only get rain once every two or three years. Strong winds up to 140 km/h make travel dangerous in spring and fall. Most of people is khalkh nation. This region comprises some special protected areas such as strictly protected areas of Great gobi, Gobi Gurvan Saikhan natural conservation park, Natural reserves of Zagiin us, Ikh Nart, Ergeliin zoo /canyon/, Suikhent natural memorial.
Breakfast, Lunch, Dinner and drinking water on each day
Horse or camel riding (as applicable)
All entrance fees to parks, monasteries etc
Qualified driver and tour guide
Sleeping bags as required
Breakfast, Lunch, Dinner and drinking water on each day
International airfare or train tickets: We offer international airfares and tickets for our customers request.
Personal expenses: Such as laundry, beverages, alcoholic drinks, telephone calls, optional activities which are not included in the tour itinerary
Travel insurance: Our clients are recommended to get travel insurance coverage from their local insurance companies before traveling
Hiking on the wild nature
Great canyon Khermen Tsav
Ancient Kharhorum & Erdene Zuu monastery
White lake & Khorgo volcano
Beautiful lake Ulaagchin & sacred mountain Otgontenger
Sacred Rocky mountain Eej Khairhan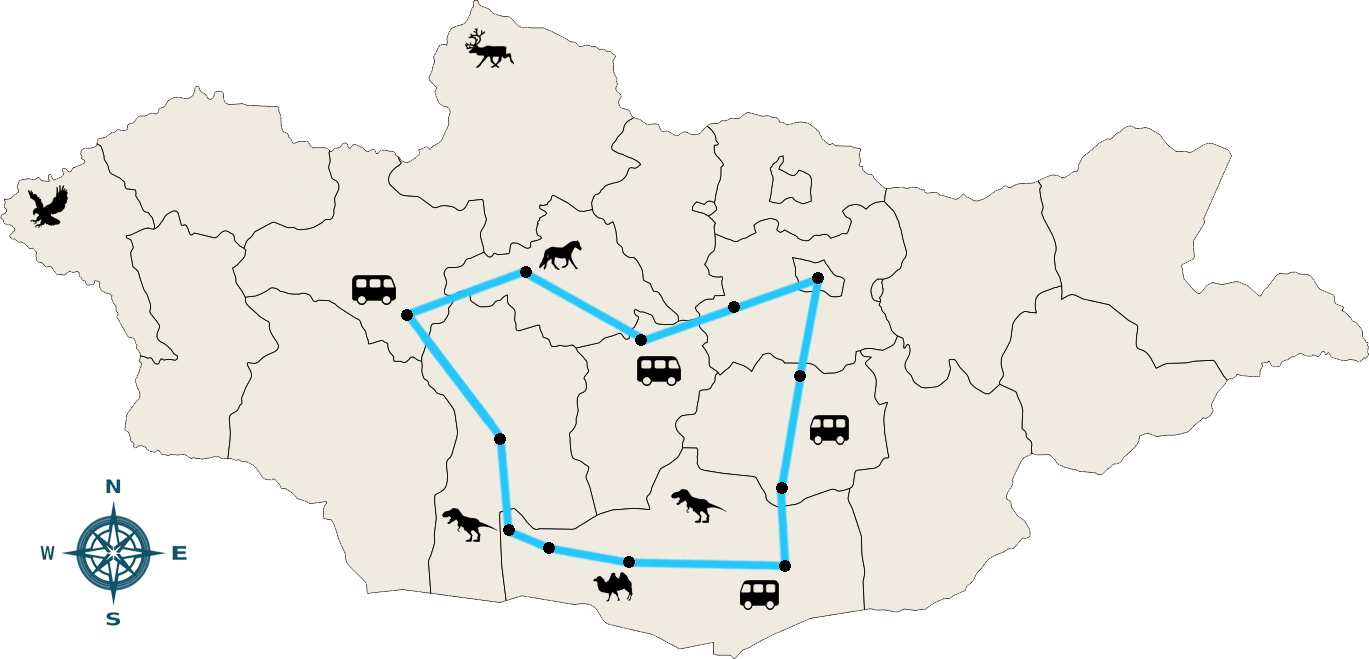 Day 1
Drive to Rock formation which is beautiful Gobi desert an interesting granite rock formation in the Middle Gobi. Baga Gazriin Stone, is a 15km long and 10 km wide stone massif, according to scientists, 64 tombs and tumuli dated back to Khunnu tribe have been found around this area, called Ger Chuluu and those paintings keep actual sizes of deer stone.
B+L+D Rock formation- White stupa
Day 2
Tsagaan suvarga (White stuppa). This is an eroded landscape that was once beneath the sea. Reach in marine fossils and clam shells, some of the chalk mounds are up to 30m in height. There is a cave with two doors, called Khevtee and Bosoo. The cave is home of bats.
B+L+D Rock Formation -Yol Valley national park
Day 3
Drive to Yoliin am (Yol ice valley ) which located in Govi Gurvan Salkhan or known as Three Beauty of Gobi. For fauna, this ranga is home of lots of rare animals such as wild sheep, ibexe, snow leopard, black- tailed derr, marten, lynx, wild cats, antelopes and ground squirrels, all registered in International and Mongolian Red Books. Yoliin Am (Vulture Muonth) is one of the beautiful natural secrets of this mountain.
(Mongolian traditional felt accommodation). B+L+D Yol Valley-Khongor Sand Dune
Day 4
We continue our journey to the Khongor sand dune or known as Singing Dune that is one of the biggest sand dunes of Mongolian. It has an extraordinary length of approximate 100 kms and 12 kilometers wide. There is near a river Khongor at the northern edge of the sand dunes. We will climb to the Duut Mankan (Singing Dune) and ride a camel one hour.
B+L+D Khongor Sand Dune - Nemegt Formation
Day 5
Today, we will drive to the Nemegt Canyon, passing through the Naran Daats oasis. This is a beautiful oasis in the wide valley of Zulganai Gobi west of Altan Mountain. Nemegt Formation is very famous place in the world because Tarbosaurus dinosaur found from here. A skeleton of a Tarbosaur dinosaur dating back to the Cretaceous Age. 4 to 5 m tall and 12m long, has been found at Nemegt Formation and Bugiin Tsav. Over 30 types of archeological finds including skeletons and eggs of dinosaurs, crocodiles and turtles have been found at Altan Mountain (2273m) and Naran daatsiin Bulag and Khermen Tsav. If you will see carefully, you could find piece of bone or dinosaur egg. We will stay in tent at the land of T-Bataar.
B+L+D Nemegt Formation- Khermen Tsav
Day 6
Khermen Tsav with special landscape is a big escarpment, and you will never forget this awesome canyon . Cliffs and canyons in Khermen Tsav are 30m and more high. This area was bottom of ancient sea and now is wonderful geological exhibition. Some pieces of dinosaur skeletons and eggs have found here. Khermen Tsav is hottest place in Mongolia. UNESCO protects Khermen Tsav as a wonderful nature valuable.
Overnight in tent at the Zulganai oasis of amazing wild Gobi. B+L+D Khermen Tsav canyon -Amarbuyant monastery
Day 7
Amarbuyant monastery was established to spiritual medicinal consultation and treatment around 1695s. During its peak it was home to about 1000 monks, but it was largely destroyed in 1937 and the monks were either shot or drafted into the soviet army. We will follow the route use by the 13th Dalai Lama when he fled from Tibet to Mongolia following the British invasion of Tibet in 1904. The 13th Dalai Lama stayed at Amarbuyant Monastery for ten days. Before the Amarbuyant monastery, our route will pass the colorful mountain Shinejinst.
We will stay in tent or local family. B+L+D Amarbuyant monastery - Eej khairkhan
Day 8-9
Granite covered mountain Eej Khairkhan, is located alone in the depression of Zakhui. There are also many interesting places like caves, holes and carving created by erosion, and it makes this mountain more beautiful. This mountain was first protected 1995. You will big hiking and climbing, take a great photos and you can be good experience.
Overnight in tent. B+L+D Eej Khairkhan - Govi-Altai aimag
Day 10
Mongolia's second-largest aimag is named after the Gobi Desert and the Mongol Altai Nuruu range, which virtually bisects the aimag to create a stark, rocky landscape.
Overnight in hotel. B+L+D Govi-Altai -Otgontenger mountain
Day 11-12
Otgontenger was a State Worshipped Mountain during the period 1828 to 1924 and then the worshipping ceremony was disrupted in1930s. According to a Mongolian President's decree, it became a State Worshipped Mountain again in 1995 and now the worshipping ceremony is being celebrated every 4 years. You can visit to many beautiful places in the north side of the mountain such as Tugaltiin Amnii rapids, Ar Badarkhundaga Lake, Ikh Bogd river and Otgontenger hot spa. The hot spa includes 31 hot springs approximately +60 Celsius. Some rare medical herbs grow around the hot springs. Tsetserleg cold spa including 12 springs is in the south of the mountain.
We will stay in tent or ger camp sacred mountain area. B+L+D Otgontenger Mountain - Terkh lake
Day 13-14
Drive to Khorgo dead volcano and Terkhiin tsagaan lake (spelled also white lake). It contains spectacular mountain scenery and rock formations formed by volcanic eruptions. We will ride a horse around four hour here to explored big volcano carter area. There are a good spot for bird watching and photographing.
B+L+D Terkh lake - Kharkhorin
Day 15
Drive to Kharakhorum ancient city of Mongolian Great Empire which was formerly a great capital city built by Ogoodei Khan(Chinggis Khan's successor and third son) in 1235. Visit to oldest Buddhist monastery Erdenezuu and you will see modern style historical museum.
B+L+D Kharkhorin - UB
Day 16
Drive back to UB. We will show great performance of National Song and Dance Academic Ensemble and we have a time quick shopping souvenirs and cashmere in UB. B+L