North and Central Mongolia
From: $60-140 : 14 days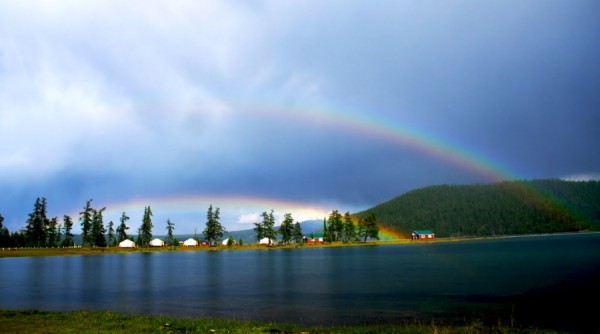 Tour description
Mongolia's North and Central highlights the most -visited regions of the country Like Khuvsgul, the Orkhon Valley and the South Gobi. You may have time to visit one or two of the areas mentioned-all three, if you stay three weeks. Lake Kuvsgul is the famous blue in northern Mongolia bordering Siberia, near many great fishing rivers. It is an area of outstanding natural beauty and we will offers good accommodation and many activities like riding, hiking and climbing. Also travel to Orkhon Valley, with its forested mountain landscape, waterfalls, spas and temple sites, to visit the site of Kharkhorum, the ancient capital of the Mongol empire and the monastery of Erdene Zuu.
Breakfast, Lunch, Dinner and drinking water on each day
Horse or camel riding (as applicable)
All entrance fees to parks, monasteries etc
Qualified driver and tour guide
Sleeping bags as required
International airfare or train tickets: We offer international airfares and tickets for our customers request.
Personal expenses: Such as laundry, beverages, alcoholic drinks, telephone calls, optional activities which are not included in the tour itinerary
Travel insurance: Our clients are recommended to get travel insurance coverage from their local insurance companies before traveling
Great lakes Khuvsgul and White lake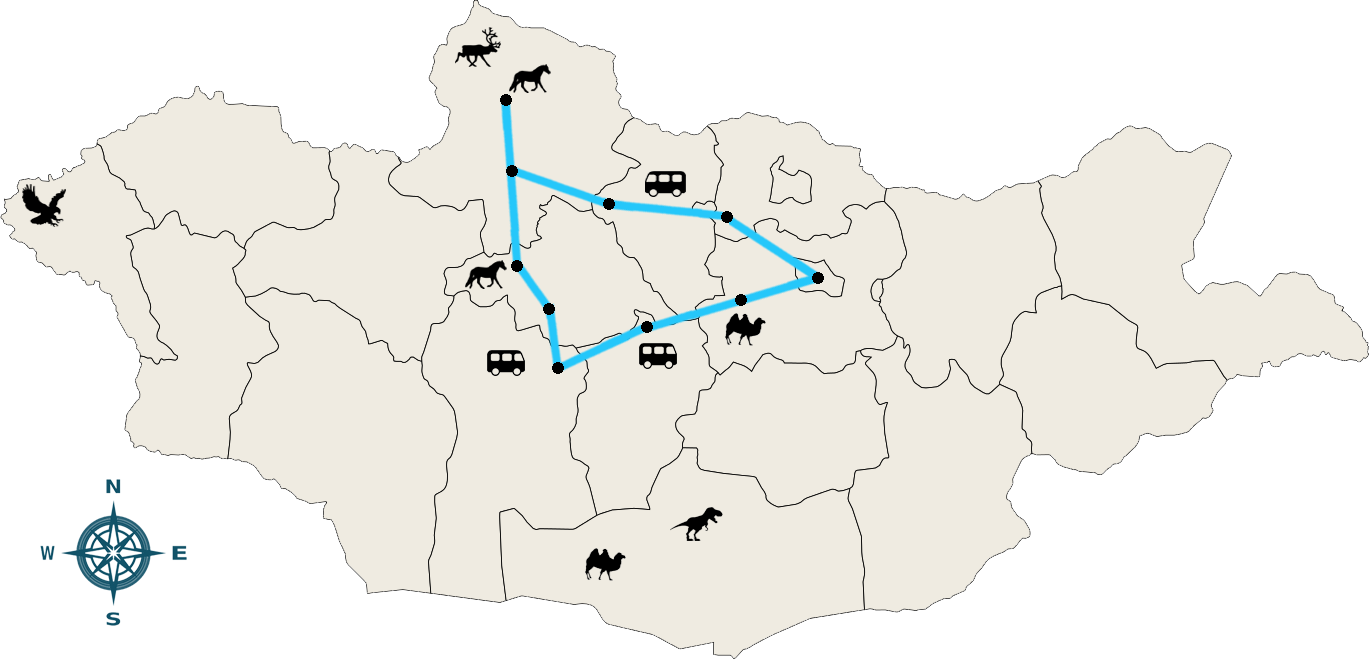 Day 1
After breakfast, we continue driving to Amarbayasgalant monastery. Amarbayasgalant is one of the four great monasteries of Mongolia and the most important northern monastery. It is one the largest monasteries, too, and it also considered architecturally the most beautiful. Unfortunately, some buildings were damaged during the religious purges of the 1930s and 10 of the 37 temples were destroyed. Restoration work was completed recently with the help of UNESCO. B+L+D
Day 2
Drive to Uran Togoo mountain which is extinct volcano around 600m wide and 50m deep, and at the bottom of it is a small lake 20m in diameter. In the centre of the lake on some high ground are some green trees. B+L+D
Day 3-6
After breakfast drive to Khatgal village, next day start a horse trip to the deepest and pure lake Khuvsgul. You have a opportunity to hiking near the lake and forest for taking picture and flora & fauna of Khuvsgul lake area. Today we visit reindeer family who are few ethnic group of Mongolia. You have a chance to ride a reindeer and take your memorable photos. Also we will take a boat on the beautiful lake. B+L+D
Day 7
Overnight near the Shine-Ider village B+L+D
Day 8-9
Drive to Khorgo dead volcano and Terkhiin tsagaan lake (spelled also white lake). It contains spectacular mountain scenery and rock formations formed by volcanic eruptions. We will ride a horse around 4 hour here to explored big volcano carter area. There are a good spot for bird watching and photographing. B+L+D
Day 10
Drive to Tsenkher hot springs via Tovkhon monastery. The waters are supposed to have curative properties for joints and other ailments. Outdoor pools are attended by staff who can or heat the water via a water-gate system; there are also indoor pools. Men and women bathe separately. It is an excellent place to relax. B+L+D
Day 11
Drive to Orkhon Waterfall, which was formed by volcanic eruptions about 20.000 years ago, the waterfall cascades from a height of 20 km. It is a scenic, tranquil spot and the surrounding nature is undisturbed, where is hiking and ride.B+L+D
Day 12
Drive to Kharakhorum ancient city of Mongolian Great Empire which was formerly a great capital city built by Ogoodei Khan(Chinggis Khan's successor and third son) in 1235. Visit to oldest Buddhist monastery Erdenezuu and you will see modern style historical museum. B+L+D
Day 13
Drive to one of the natural spectacular Khugnu khan national park. You will see the little bit of the Gobi desert which called Elsen tasarkhai (means small sand dune and Mongol els).Mongol els surrounded by hills with willow trees, streams and bushes. Also visit nomad family and camel ride, hiking this area, take a memorable photos. B+L+D
Day 14
Drive back to UB city.