Tours
Short & Winter tours
Kharkhorum 3 days Tour
From: $From 60 : 3 days
Tour description
Orkhon valley is a famous steppe encompassing territory of eight soums (counties) of two provinces- Uvurhangai and Arhangai. You can reach there by bus or car on a paved road. However, as you reach the main towns of Orkhon valley, relatively short, non-paved roads will take you to the cores of the nomadic culture.
The people of this valley are true to the nomadic heritage and many nomadic intangible heritages are kept and transmitted to the next generation in this valley. Orkhon valley and surrounding heritage were registered by UNESCO as a world heritage area. The tourism industry in this valley is developing with the understanding of the fragility of nomadic heritages and environment and the historic and cultural value of the area. When improving their services the industry team work together to stay true to the nomadic lifestyle and protection of the valley's substantial cultural heritage.
Orkhon valley has hundreds of archeological sites. From ancient rock paintings to Monasteries, from the first written account of Turkik history to the ruins of Uigur palace, from Mongol Empire's capital city ruins to Zanabazar's art making escape temple, the valley's people continue to honor and protect their nomadic heritage along with the heritage of all the past nomadic tribes and empires that once dominated Mongolia.
---
Breakfast, Lunch, Dinner and drinking water on each day
Horse or camel riding (as aplicable)
All entrance fees to parks, monastries etc
Qualiied driver and tour guide
Sleeping bags as required
Breakfast, Lunch, Dinner and drinking water on each day
Note: The duration and activities can be changed to suit your needs and requirements.
International airfare or train tickets: We offer cheap international airfares and tickets for our customers request.
Personal expenses: Such as laundry, beverages, alcoholic drinks, telephone calls, optional activities which are not included in the tour itinerary
Travel insurance: Our clients are recommended to get travel insurance coverage from their local insurance companies before traveling
Ancient capital city of Mongolian empire,
Visit Erdenezuu monastery & historical museum
Beautiful sand dune & camel riding one hour,
Meditation temple in the sacred Khugnu Khan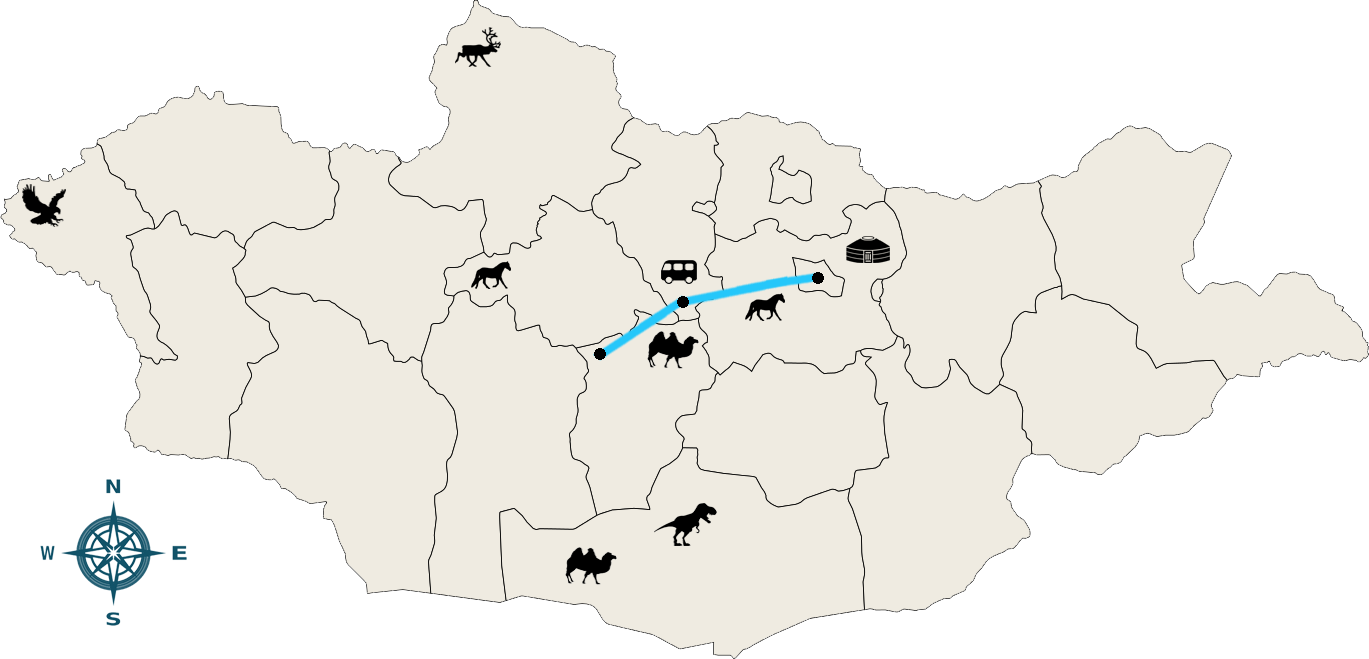 Day 1
Drive to Kharakhorum ancient city of Mongolian Great Empire which was formerly a great capital city built by Ogoodei Khan(Chinggis Khan's successor and third son) in 1235. We visit to oldest Buddhist monastery Erdenezuu and you will see historical museum which modern stylish. L+D
Day 2
Drive to one of the natural spectacular Khugnu khan national park. You will see the little bit of the Gobi desert which called Elsen tasarkhai (means small sand dune and Mongol els).Mongol els surrounded by hills with willow trees, streams and bushes. Also visit nomad family and camel ride, hiking this area, take a memorable photos. B+L+D
Day3
After breakfast, visit Uvgun (Old man) temple in the Khugnu khan mountain , now being restored which is destroyed during the purges of the1930s.Then drive to Ulaanbaatar. B+L