Tours
Short & Winter tours
Hiking to Khustai National Park
From: $70 : 2 days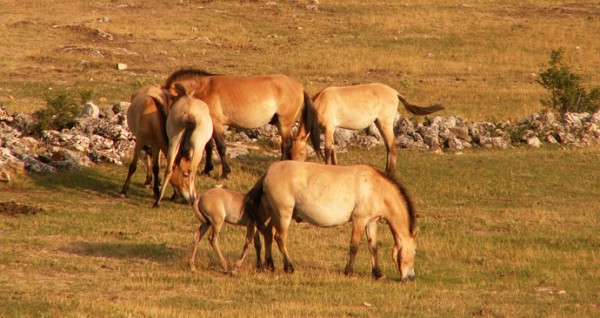 Tour description
100 kilometers west of Ulaanbaatar is Khustai Mountain National Park. The Park was established twenty years ago just for one type of horse: The Takhi, Mongolia's native wild horse. Takhi means "worship worthy" in Mongolian. The Takhi's scientific name is Przewalski's Horse- the man who first described the horse for science during his late 19th century research in Mongolia.
The Taki went extinct in Mongolia in the 1960s, but survived in European zoos. When the park started its operation, only a few horses were brought back from a Netherlands zoo. Now Mongolia has over 300 Takhi thanks to the National Park. And the park's protected wildlife is constantly increasing. Wolves, red deer (elk), fox, marmot, lynx and many other native species animals and birds found a safe home in Khustai National Park when development in Ulaanbaatar expanded into wild areas.
This is one of the key areas where local herders have to peacefully share their pasture, with wild animals. Another such area is in the Altai Mountains where local herders may not kill snow leopards even though the big cats occasionally take a herd animal. It is understood as a cost of herding nearby.
Wildlife watching in the Khustai Mountains plays important role to the local economy and environmental protection - more than compensating for the occasional loss of a herd animal. Takhi-watching is very popular for tourists during all seasons except spring.
Breakfast, Lunch, Dinner and drinking water on each day
Horse or camel riding (as applicable)
All entrance fees to parks, monasteries etc
Qualified driver and tour guide
Sleeping bags as required
Breakfast, Lunch, Dinner and drinking water on each day
International airfare or train tickets: We offer cheap international airfares and tickets for our customers request.
Personal expenses: Such as laundry, beverages, alcoholic drinks, telephone calls, optional activities which are not included in the tour itinerary
Travel insurance: Our clients are recommended to get travel insurance coverage from their local insurance companies before traveling
Hiking to protected area in Khustai National Park
See the Wild horses and wild animals,
Day 1
09.00 AM. Drive to Khustai national park. Located about 110 km west of UB this reserve is home to the Mongolian wild horse, named of Takhi (Przewalski Horse). The steppe and forest-steppe environment is inhabited by moose, steppe gazelle, deer, boar, wildcat, wolf, marmot and lynx where is paradise for hikers. L+D
Day 2
After breakfast, horse riding short time, explore and hiking in wild nature, taking photos. Have a lunch drive back to UB B+L