Tours
Short & Winter tours
Dog Sledding Winter Tour
From: $300 : 6 days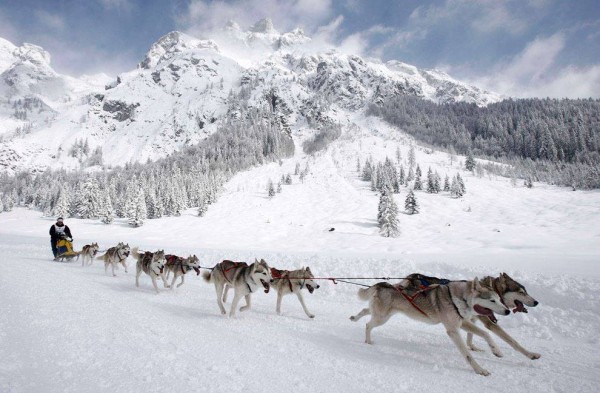 Tour description
You will live this unique experience at Terelj, located in the Gorkhi-terelj national park, at 80 km from the capital. Terelj region is part of a mountain range with summits up to 2700 m. Covered with large forest areas, Terelj is also a shrine for wild fauna. The park is endowed with zones of steppes and of splendid rocky structuresAn ideal place for this adventure combining nature and culture. You will drive yourself a sled pulled by 5 - 6 dogs on the meanders of Tuul and Khagiin rivers. Meetings with our nomadic friends and discovery of a timeless life and famous nomadic "hospitality".Winter in Terelj is strict and cruel, between - 25°C to - 35°C, but mostly sunny, very dry air and with an adapted equipment, this adventure journey can be possible for everybody.
Sled dog is one of the best ways to discover Mongolia in winter, to approach wild animals and live an incredible adventure in the heart of Mongolian winter.Leaded by professional mushers, for beginners or winter lovers, come and enjoy the serenity and the amazing atmosphere of Mongolia!
You can choose below itinerary:
1. Dog sledding tour 11 days
2. Dog sledding tour 6 days
3. Day trip around 4-5 hour (30km)
4. Only 5 Km
Let's ride an adventure with the ADVENTURE RIDER team.
The tour itinerary is subject to be changed at the traveler's request and requirements
Above mentioned price is average amount to give you an idea. The exact amount is varied for everyone depending on number of travelers and service type including how many stars hotels you want to stay in, double or single occupancy you would prefer, what kind of additional service /such as visa support/ is required and so on...
Discount conditions:

If group is bigger than 16 people: 16 +1pax free of charge
• For Family trip, children 0-9 years old are free of charge
Private transport with driver during the trip including petrol cost and road tolls,
Breakfast, Lunch, Dinner and drinking water on each day
Horse or camel riding (as applicable)
All entrance fees to parks, monasteries etc
Qualified driver and tour guide
Sleeping bags as required
International airfare or train tickets: We offer international airfares and tickets for our customers request.
Personal expenses: Such as laundry, beverages, alcoholic drinks, telephone calls, optional activities which are not included in the tour itinerary
Travel insurance: Our clients are recommended to get travel insurance coverage from their local insurance companies before traveling
Challenging dog sledding in a unique far-flung destination
Diverse and unspoilt landscapes
Terelj National Park, where you'll encounter wild animals, sheep, deers, birds and well as friendly nomads
Beautiful Tuul River Famed Melkhii Kad (Turtle Rock)
Capital city of Ulaanbaatar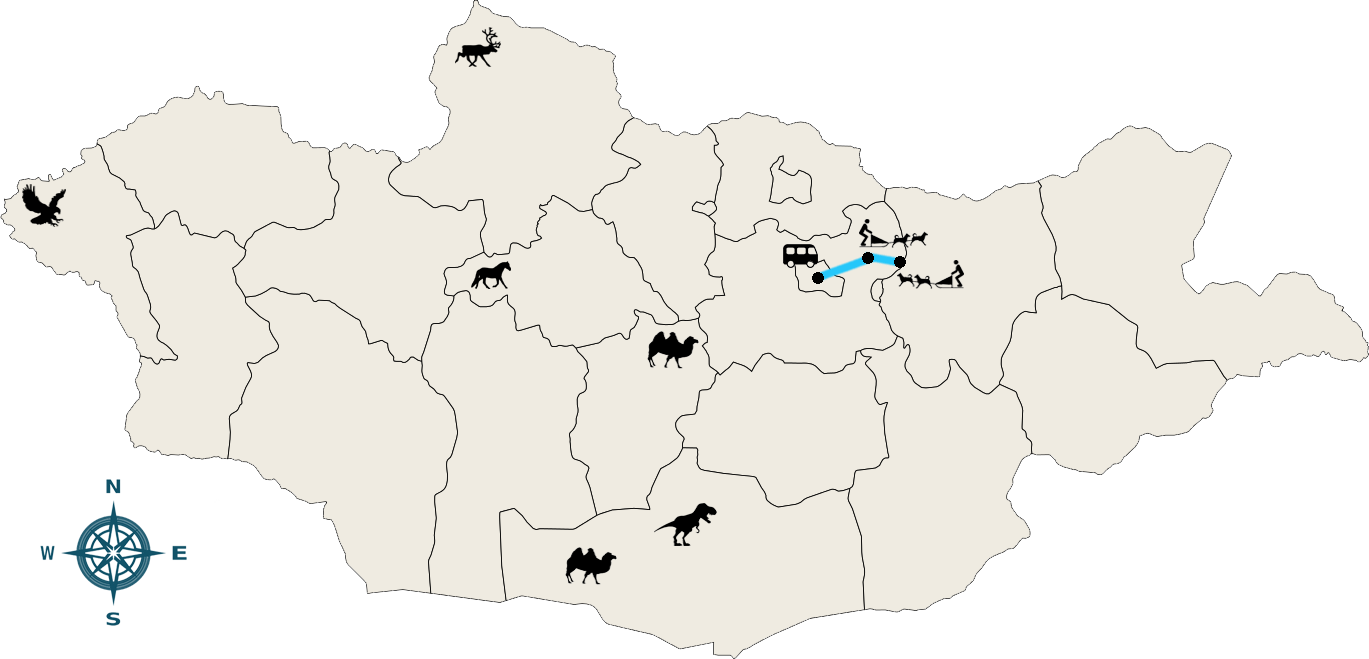 Day 1
Ulan Batar - Terelj (L,D)
We will meet early morning in UB. Then transfer by car to our base camp in Terelj. Overnight at Ger camp.
Day 2
Khentii - Departure for the dog sledding to Terelj's Ram . (B, L, D)
Start to our adventure sledding tour. Wildlife is never far away and silence reinforced by the cold create an unreal atmosphere. Ice on the Tuul river is amazing and changing: blue one day, it can darken to become black an other. We reach for the night Terelj;s Ram, overnight ger camp. Share moments in a ger with nomads is an unforgettable experience. Discovery of another culture, which combines harmoniously tradition and modernity.
Day 3
Nerstii mount (B,L,D)
After breakfast continue to sled to the beautiful mount Nerstii. The landscape becomes increasingly wild, reminiscent of Alaska. There is no more nomads in these areas, but it can happen to encounter a little group of horse riders who cut through the mountains to move from one valley to another. Overnight at ger camp
Day 4
Urgudug chuluu (translated Lifted stone) B,L,D
Magic Itinerary... We will continue to go up on the Khagiin Gol river, that becomes more a mountain stream than a plain river. Splendid landscapes on the way to reach a kind of open plateau. Overnight at ger camp.
Day 5
Back to Base camp
Departure from Urgudug chuluu. Again, we slip on the Tuul, to the junction with the Terelj. Only a few kilometers to reach our end point, where will wait vehicle and trailer. Last moments of sledding and encounters with nomads. Arrival at Terelj Base Camp in afternoon.
Day 6
Terelj - Ulan batar. (B, L,)
In the morning, transfer by car to Ulan batar. Check-in your hotel.