Climbing to Malchin Peak (4050m)
From: $120 : 10 days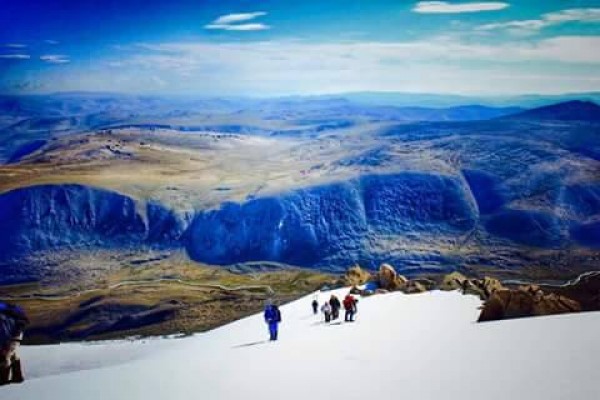 Tour description
Our trekking tours cover glaciers and peaks, alpine lakes and rushing streams and include snow-capped peaks of Mt. Khuiten, Nairamdal, Turgen and Kharkhiraa, Lakes of Khoton, Khurgan, Achit and Uureg.
Inhabited by many colorful ethnic tribes this remote part of Mongolia offers picturesque cultural encounters with the most hospitable people.
You can walk all the way to base camp, and get a good view of the glacier and peaks.
Malchin peak is a non technical climb, and you get great views of the Potanin glacier, the peaks around and Russia. It takes about 5-7 hours to get to the top from the Potanin glacier.
Both experienced trekkers and first-time walkers may rely on Adventure Rider and look forward to a safe and fun trekking tour.
Let's ride an adventure with the ADVENTURE RIDER team.
Breakfast, Lunch, Dinner and drinking water on each day
Horse or camel riding (as applicable)
All entrance fees to parks, monasteries etc
Qualified driver and tour guide
Sleeping bags as required
Breakfast, Lunch, Dinner and drinking water on each day
International airfare or train tickets: We offer cheap international airfares and tickets for our customers request.
Luggage charges: Free luggage allowance is 15 kg for domestic flights depending on the air company.
Personal expenses: Such as laundry, beverages, alcoholic drinks, telephone calls, optional activities which are not included in the tour itinerary
Travel insurance: Our clients are recommended to get travel insurance coverage from their local insurance companies before traveling
Kazak people of Mongolian ethnic group,
Sacred Altai mountian & Potanin glacier,
Trekking to Malchin peak,
Beautiful lakes Kurgan & Khoton, Horse & camel riding
Altai Tavan Bogd National Park,
Nomad people and different lifestyle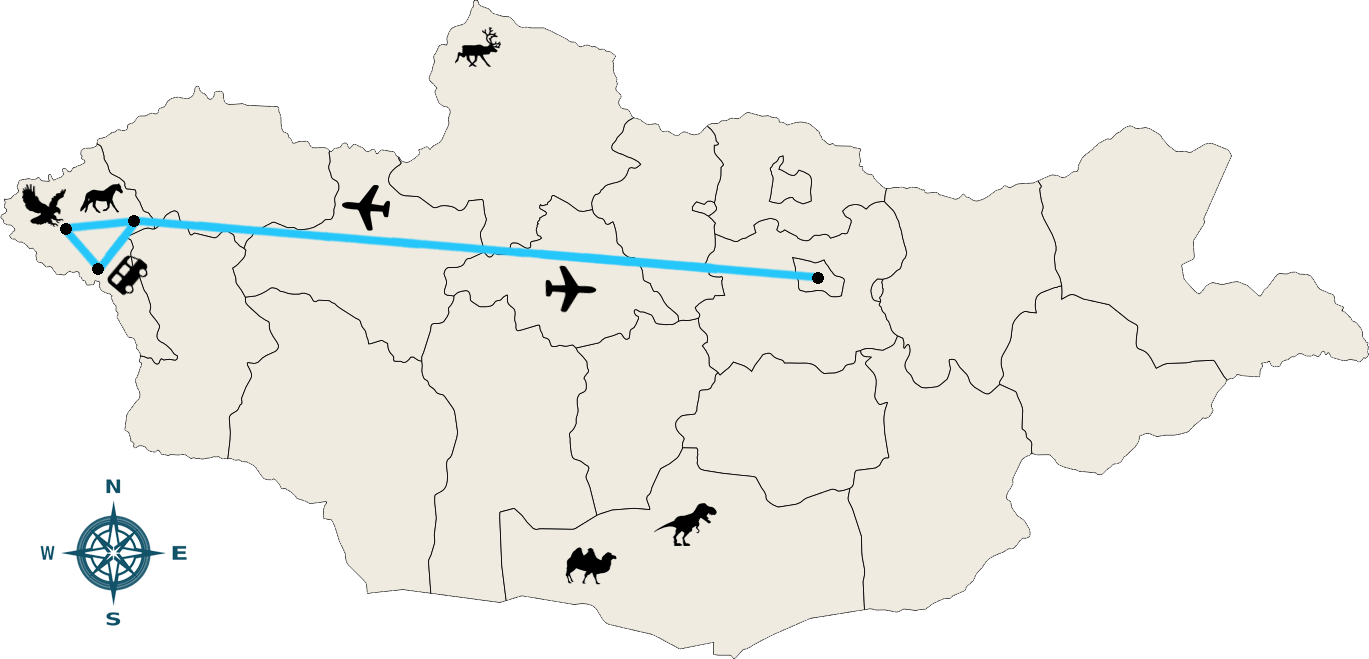 Day 1
Flight to Ulgii (2 to 3 hours) and drive to Altai Tavan Bogd
In the morning you will fly from Ulaan Bataar to to Ulgii City in Western Mongolia. The flight takes approximately two to three hours. At the local airport you will be met by an English-speaking guide, a driver and an expedition cook. The same day we'll drive to Altai Tavan Bogd National Park, about a seven hour. The park lies in the Oigor Gol Valley where we will meet up with the local Kazakhs who will join our group with their camels and horses. (Tent /L,D)
Day 2
Trek to Base Camp
We will hike to the Tavan Bogd Base Camp. The landscape around the base camp is breathtaking - surrounded by snow-capped mountains. It takes 5 to 6 hours. Luggage and supplies will be carried by camels. We will spend the night in our own tent camp. (Tent/B,L,D)
Day 3
Glacier exploration and hiking around base camp.
Mongolia's longest glacier, Potanin, is 19km long. (Tent /B,L,D)
Day 4
Climb to Malchin Peak, 4050 m.
This peak is near the Mongolian/Russian border. Malchin Peak is one of the highest and also "Holy Five Peaks" of the Altai Mountains. It takes 6-7 hours to hike to the summit and back. The terrain is rocky. Back to the camp after the climb where we'll relax. (Tent/B,L,D)
Day 5
Hiking back to the North of the Oigor River Valley
Camel support. Tents. (B,L,D)
Day 6
Drive to Khoton and Khurgan Lakes
These lakes are the second largest and clearest of all lakes in the Mongolia, the average depth is 26 m., the maximum depth is approximately 58 m. about an 8 hour trip. The landscape around the lakes is stunning - with forests and snow-capped mountains. Around Khoton Lake there are a number of historical sites including ancient monuments such as deer stones, petroglyphs and burial grounds.
Day 7
We'll drive to Dayan Lake
Stopping for a leisurely picnic lunch on the way and we see the famous "Stone Men", and ancient stone monument dating from the 6th to 8th century, which is a Turkish burial marker, about a 5 hour trip. The landscape around the lakes is extremely beautiful. (Tent/B,L,D)
Day 8
Golden Eagle Training
We will visit a Kazakh family to see their customs and way of life. Kazakh people are very friendly and hospitable. They will introduce you to their famous milk products and you can taste the locally made yak cheese and yogurt. There, you will see how the Kazakh women make their beautiful embroidery and you will also meet with an Eagle Hunter. The hunter will explain to you, and you can enjoy discussing, (through an interpreter) how he trains and hunts with his eagles. You can have photos taken with the Golden Eagle. Stay overnight in tent nearby Kazakh family. (Tent/B,L,D)
Day 9
Drive back to Ulgii
Visit the local Muslim Mosque, the open air bazaar, the museum, and do some arts and crafts shopping, about 6 hours. You can spend the night either in our own traditional Ger Camp (equipped with good hot shower). We will have a Kazakh traditional meal. (Ger/Guest house/B,L,D)
Day 10
Flight back to Ulaan Bataar.