Horse Riding to Lake Khagiin Khar
From: $100 : 8 days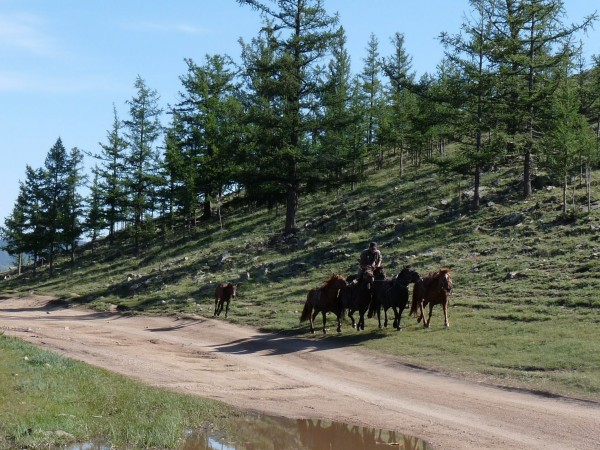 Tour description
This Mongolia tour is the excellent choice for those who are looking for an exciting adventure with horse riding experience. Not everyone can reach Khagiin Khar lake, the deeper you into the Khan Khentii mountains, you enter into the breathtaking scenery. An experienced guide and local guide will always help you riding horse and to get along the road and reach spectacular Khagiin Khar lake.This is high mountain range area which you might experience three day long rain and wet, high day, night temperature difference. However, during Mongolia trip in Khan Khentii you will be amazed by the beautiful wilderness nature and its intriguing wildlife.
During this trip, there would be a great change to cross high mountains, crossing rivers, ride through taiga forests in the most remote and beautiful areas of the Khentii Mountain range. Deep in the forested valleys, you will discover the hidden jewel of the area - Khagiin Khar or Black Lake - in the heart of a truly pristine landscape. Bears, wolves, red deer, moose and other wild animals are the only inhabitants of this strictly protected area.
Breakfast, Lunch, Dinner and drinking water on each day
Horse or camel riding (as applicable)


All entrance fees to parks, monasteries etc
Qualified driver and tour guide
Sleeping bags as required
International airfare or train tickets: We offer cheap international airfares and tickets for our customers request.
Personal expenses: Such as laundry, beverages, alcoholic drinks, telephone calls, optional activities which are not included in the tour itinerary
Travel insurance: Our clients are recommended to get travel insurance coverage from their local insurance companies before traveling
Terelj National Park & Turtle Rock,
Real adventure horse riding,
Wild steppe and high mountains,
Beautiful Lake Khagiin Khar,
Wild animals & birds, fauna & flora,
Stay in wild nature and clear stars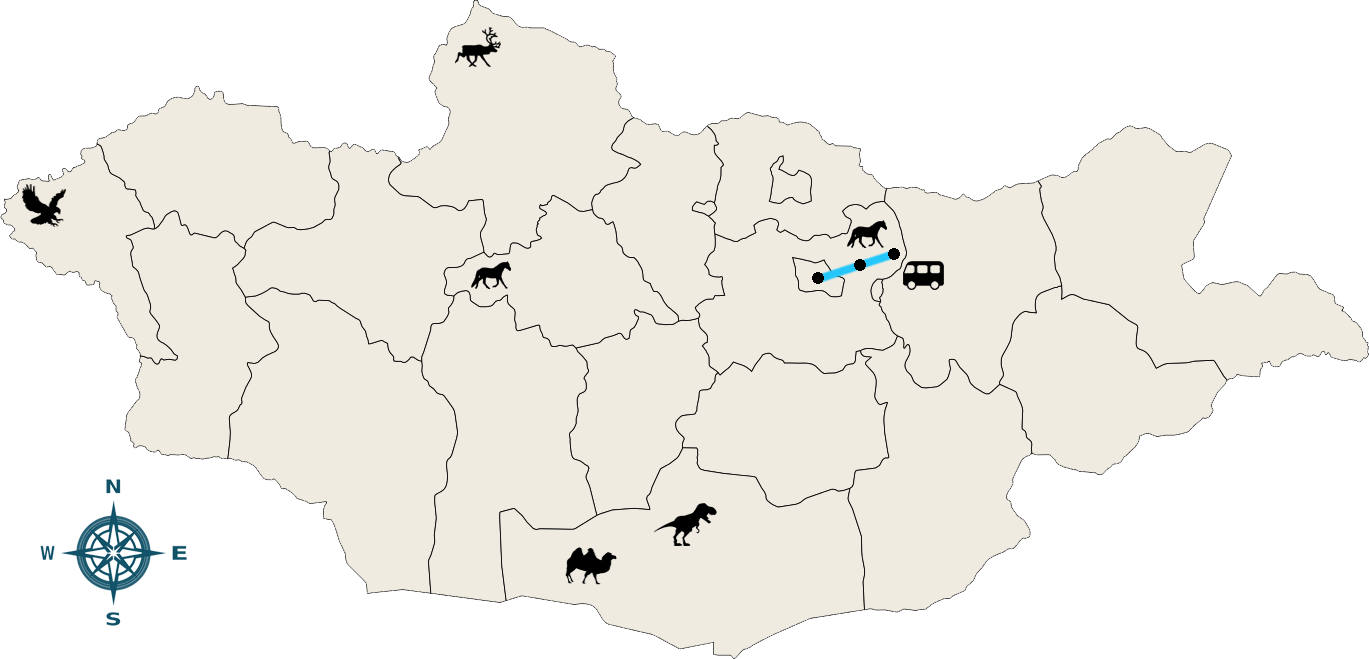 Day 1
Princess Lodge, introduction of the Khan Khentii protected area
In the morning drive toTerelj National Park (2 hours), on the way we will have short stop at the Turtle rock.. Spend the day at (GER camp) enjoy hiking around and prepare luggage for tomorrow's journey.
Stay overnight at the GER camp (B,L,D)
Day 2
Riding begins
In the early morning after the tasty and nice breakfast, we prepare for excursion by saddling horses, packing luggage. Ride to the first point Zuugiin spring, on the way you will have lunch. Afternoon arrive at Zuugiin spring and have a break for an hour. The spring is full of minerals and known as very good for stomach, the most interesting fact is small air bubbles come from bottom of the spring when you whistle and sing. Continue our ride for another 3 hours, camp near the Khavirgan davaa known as Rib hill. In the evening our guide will serve you a delicious meal which prepared on the bonfire.
Stay overnight in the tent (B,L,D)
Day 3
Climb up the Khavirgan Davaa mountain (translated of Rib)
In the morning ride further to the Rib valley. After an hour of climbing up by horse riding we will reach the top, there you have opportunity to take great photographs. Then come down to the other side of the hill though a narrow passage. Lunch and break time near the Khonog tolgoi (a small torn of hill)
Stay overnight in the tent /B,L,D/
Day 4
Khagiin Khar Lake
After breakfast, continue our journey to Khagiin Khar lake. Today we are close to the breathtaking lake ride about 4 to 5. Make camp beside the Lake and enjoy the wonderful landscape.
Stay overnight in tent /B,L,D/
Day 5
Riding back
If we are lucky in the early dawn we will see deer or antelope near the lake. This area is the home to many creatures in Khan Khentii protected area. After early Lunch, ride back to Gil Khar mountain.
Stay overnight in tent /B,L,D/
Day 6
Khavirgan Davaa
After early morning breakfast we continue our ride to cross over the Rib hill. In the evening have a panoramic view of the Milky Way and stars beside the bonfire. Listen the great Mongolian legends from local herder.
Stay overnight in tent /B,L,D/
Day 7
Have a nice breakfast in the morning, after three to four hours of horse riding arrive in Princess Lodge at lunch time. In the evening have a relaxing and enjoy the silent peaceful landscape of Khan Khentii. After dinner play Mongolian traditional game known as horse racing and herder.
Stay overnight in GER camp. /B,L,D/
Day 8
After a good rest take your optional timed breakfast. En route back to Ulaanbaatar city visit Chinggis Khaan Statue, the tallest horse riding man stainless steel statue in the earth. The Statue complex was built in 2008, which symbolically pointed east towards his birthplace. If you would like to do some shopping souvenirs and cashmere in Ulaanbaatar. And enjoying an evening performance of national Folklore. /B,L,D/