National Parks Tour
From: $60-140 : 5 days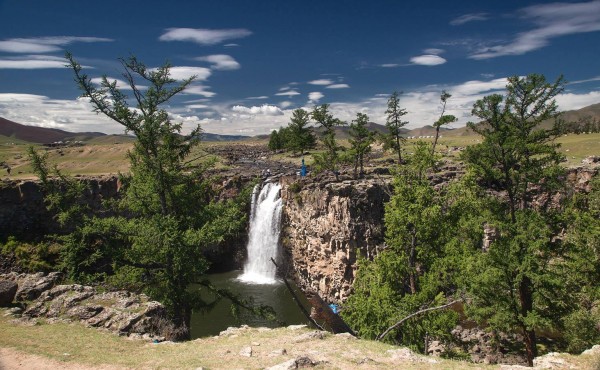 Tour description
First up to the Elsen Tasarkhai, marvellous oasis with sand dunes, vegetations, lake and birds, an hour drive from Karakorum.
.Karakorum city, which once served as the capital of Mongolian Empire and an essential station of the Silk Road, has much more to share than its current physical appearance. Mongolian largest and the historically most significant religious and cultural center - Erdenezuu monastery - is operating as a museum.
Next stop will be Khustai National Park, a home to Przewalski wild horses and wild animals.
Terelj National Park; where the nature is articulated in great combination of sheer granite mountains, open fields and river. Visit to the tallest horseman-statue in the world, dedicated to Mongolian legendary emperor - Chinggis or Genghis Khan.
Breakfast, Lunch, Dinner and drinking water on each day
Horse or camel riding (as applicable)
All entrance fees to parks, monasteries etc
Qualified driver and tour guide
Sleeping bags as required
International airfare or train tickets: We offer international airfares and tickets for our customers request.
Personal expenses: Such as laundry, beverages, alcoholic drinks, telephone calls, optional activities which are not included in the tour itinerary
Travel insurance: Our clients are recommended to get travel insurance coverage from their local insurance companies before traveling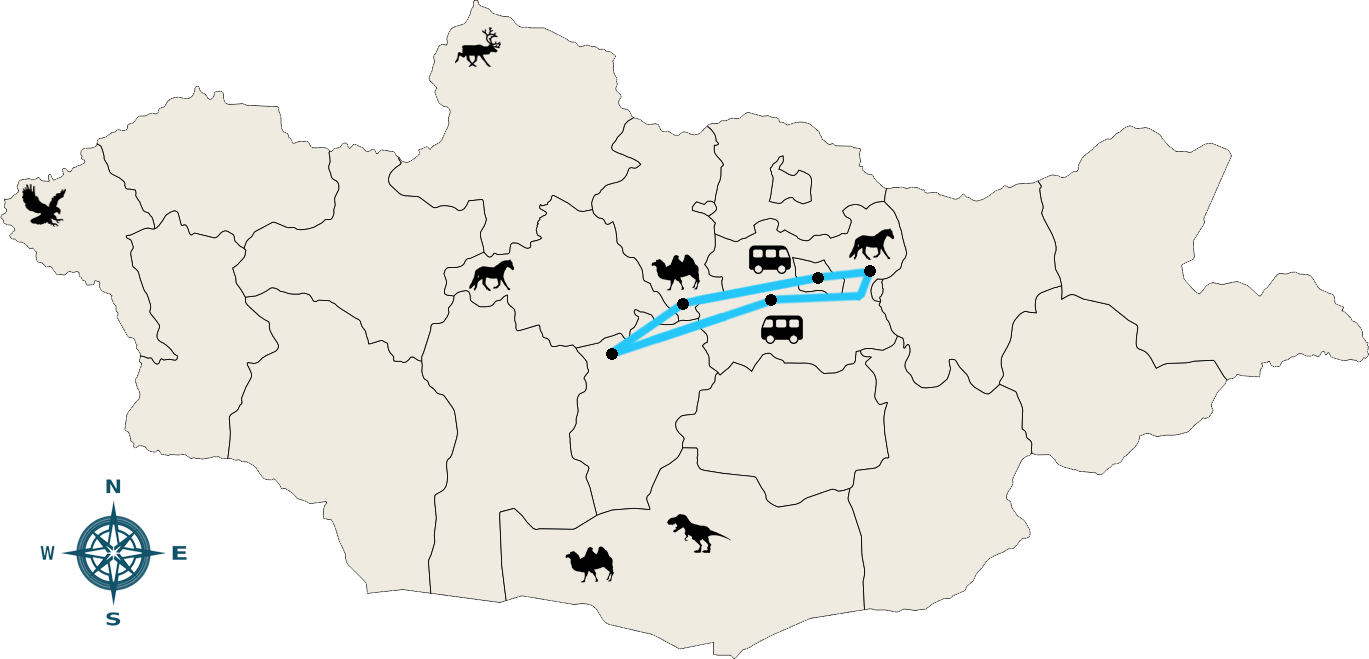 Day 1
Drive to one of the natural spectacular Khugnu khan national park. You will see the little bit of the Gobi desert which called Elsen tasarkhai (means small sand dune and Mongol els).Mongol els surrounded by hills with willow trees, streams and bushes. Also visit nomad family and camel ride, hiking this area, take a memorable photos. B+L+D
Day 2
Drive to Kharakhorum ancient city of Mongolian Great Empire which was formerly a great capital city built by Ogoodei Khan(Chinggis Khan's successor and third son) in 1235. Visit to oldest Buddhist monastery Erdenezuu and you will see modern style historical museum. B+L+D
Day 3
Drive to Khustai national park. Located about 100 km west of UB this reseve is home to the Mongolian wild horse, named of Takhi (Prezewalski Horse). The steppe and forest-steppe environment is inhabited by maral, steppe gazelle, deer, boar, wildcat, wolf, marmot and lynx where is paradise for hikers. B+L+D
Day 4
Drive to Terelj national park. Lying in the valley of the Terelj river 80km northeast of UB, this resort is part of the Gorkhi-Terelj National Park. It is one of the most visited areas in Mongolia due to its magnificent scenery and its proximity to Ulaanbaatar. During the summer season there are great opportunities for hiking, rock climbing, swimming, riding and birdwatching. B+L+D
Day 5
Drive back to UB via visit Chinggis Khan statue which is 40m high and see as far signed Chinggis Khan holds golden whip in his right hand. B+L