Tours
Gobi and Southern tours
Mongol Gobi Tour (One way Flight)
From: $110 : 8 days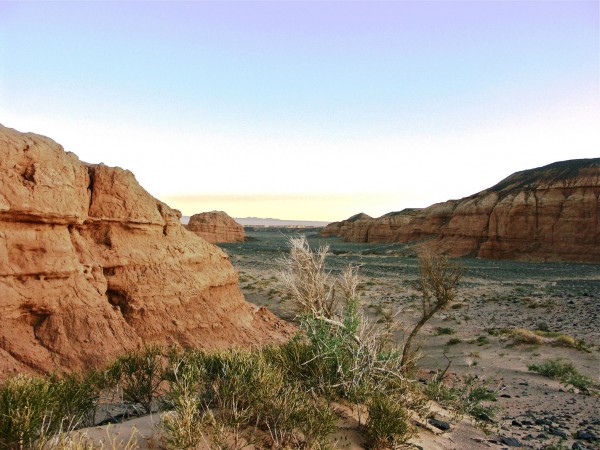 Tour description
On this tour, you will view the most famous attractions of vast-open Gobi desert such as Ikh Gazariin Chuluu (granite rock mountains), Tsagaan Suvarga (small version of the famous Bryce Canyon), Eagle Valley, Flaming Cliff (dinosaur excavation site), Bayan Zag (Saxual tree grove), Natural hot spring (medical and relaxing ) Ongi Monastery and Erdenezuu Monastery in central Mongolia.
Breakfast, Lunch, Dinner and drinking water on each day
Horse or camel riding (as applicable)
All entrance fees to parks, monasteries etc
Qualified driver and tour guide
Accommodation
Sleeping bags as required

Dinner on the final day of the tour
International airfare or train tickets: We offer cheap international airfares and tickets for our customers request.
Luggage charges: Free luggage allowance is 15 kg for domestic flights depending on the air company.
Personal expenses: Such as laundry, beverages, snacks, alcoholic drinks, telephone calls, optional activities which are not included in the tour itinerary
Travel insurance: Our clients are recommended to get travel insurance coverage from their local insurance companies before traveling
Sand dunes
Ancient capital city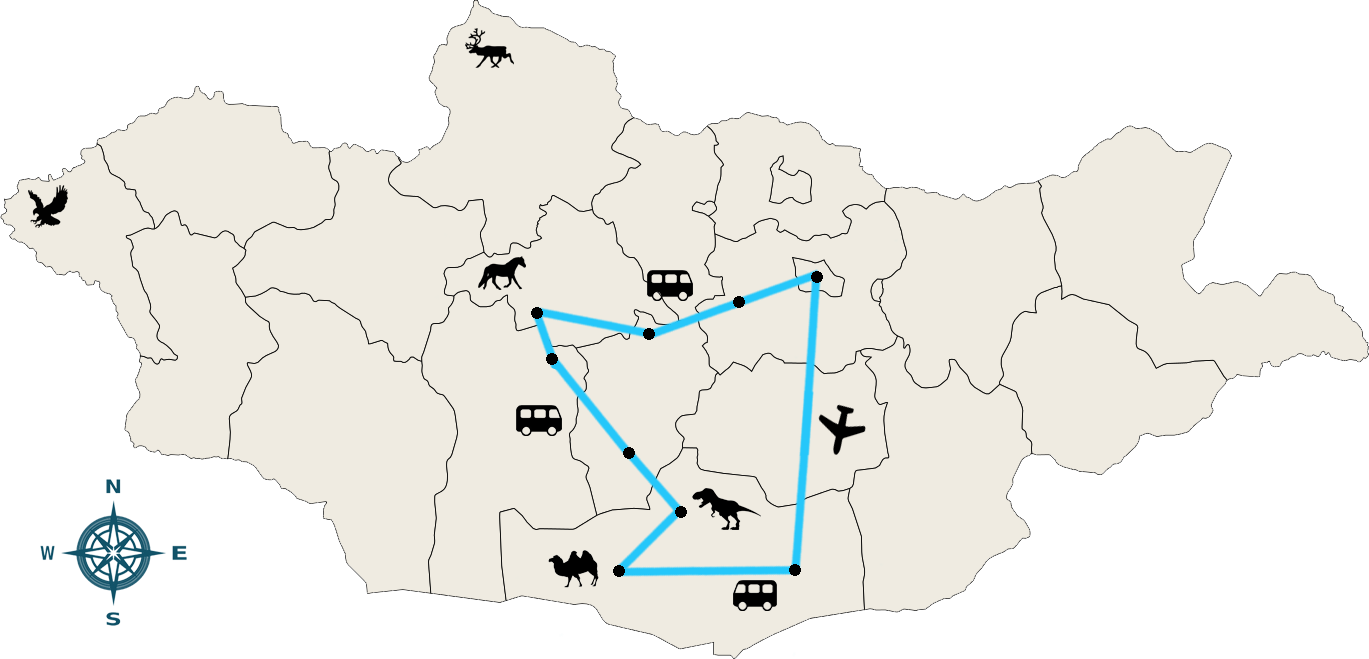 Day 1
Flight to Dalanzadgad. You wil meet our team there. Drive to Yoliin am (Yol ice valley ) which located in Govi Gurvan Salkhan or known as Three Beauty of Gobi. It's end of the Altai mountains ranges and chance to see wild animals such as wild sheep, ibex, condor, golden eagle and of course vultures. B+L+D
Day 2
We continue our journey to the Khongor sand dune or known as Singing Dune that is one of the biggest sand dunes of Mongolian. It has an extraordinary length of approximate 100 kms and 12 kilometers wide. There is an oasis near a river Khongor at the northern edge of the sand dunes. Dune journey, camel riding and trekking is available. B+L+D
Day 3
Drive to Bayanzag or known as Flaming Cliffs. Bayanzag is very famous for Dinosaur remains complete dinosaur skeletons and eggs. American Palaeontologist Roy Chapman Andrews has been discovered this area in beginning of 20 century and getting famous all over the world. Visit to Dinosaur fossils found area. If you see carefully, you could find piece of bone or dinosaur egg. Afternoon short hiking Gobi tree-saxual forest. B+L+D
Day 4
Drive to Ongi monastery, which is located Ongi river near the settlement of Saikhan Ovoo village, this site comprises the remains of two monasteries Barliim Khiid and Khutagt Khiid. Altthough there is little left, it is interesting to go there to explore the ruins. B+L+D
Day 5
Drive to Orkhon Waterfall, which was formed by volcanic eruptions about 20.000 years ago, the waterfall cascades from a height of 20 km. It is a scenic, tranquil spot and the surrounding nature is undisturbed, where is hiking and ride. B+L+D
Day 6
Drive to Tsenkher hot springs via Tovkhon monastery. The waters are supposed to have curative properties for joints and other ailments. Outdoor pools are attended by staff who can or heat the water via a water-gate system; there are also indoor pools. Men and women bathe separately. It is an excellent place to relax. B+L+D
Day 7
Drive to Kharakhorum ancient city of Mongolian Great Empire which was formerly a great capital city built by Ogoodei Khan(Chinggis Khan's successor and third son) in 1235. Visit to oldest Buddhist monastery Erdenezuu and you will see modern style historical museum. B+L+D
Day 8
Drive back to UB. If you would like to do some shopping souvenirs and cashmere in Ulaanbaatar. B+L